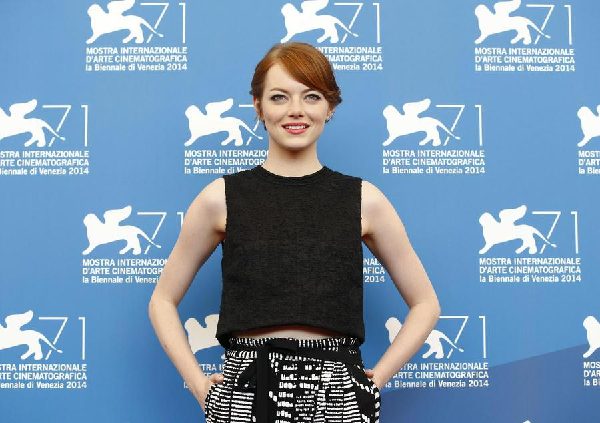 US actress Emma Stone poses during the photo call for the movie Birdman or (The unexpected virtue of ignorance) at the 71st Venice Film Festival August 27, 2014. [Photo/Agencies]
Several Chinese-language films will be presented during the 11-day event, including
Dearest 
directed by Peter Ho-sun Chan, which was unveiled in the Out of Competition selection on Wednesday.
Chinese actress Zhao Wei, who stars in Dearest, was in Lido of Venice, where the ancient festival was born in 1932 and still takes place, along with a mix of new and old talents from Catherine Deneuve and Al Pacino to Emma Stone and Adam Driver.
Birdman or (The Unexpected Virtue of Ignorance), a black comedy by Mexican director Alejandro Gonzalez Inarritu, kicked off the awards season as the opening film in the presence of Italian President Giorgio Napolitano.
The movie, whose cast included Stone and Edward Norton, tells the story of an actor, played by Michael Keaton, famous for portraying an iconic superhero. He struggles to mount a Broadway play, battling his ego and attempting to recover his family, his career and himself.
Set in the world of cinema, Birdman in fact was itself a celebration of the Venice film festival's ambition described by Barbera to instill a renewed passion for both making and watching movies.
Speaking at the opening film's press conference on Wednesday, Norton praised the "intimacy and collaboration" of the cast and crew on set, that he described as a perfect team where "everybody is working with the same objectives."
Following Italy's win last year for the film Sacro GRA, the host country this edition features three Italian films including Mario Martone's 19th-century drama about Italy's greatest poet since Dante, Giacomo Leopardi.
The program of the festival, which will show 55 feature-length films in the official selection chosen from 1,600 contenders, besides feature films, short movies and documentaries in other special and parallel sections, promises to be intensive.
Three international juries will award the Golden Lion, the highest prize given to a film at the Venice film festival, and other official prizes to present a new angle of international cinema.