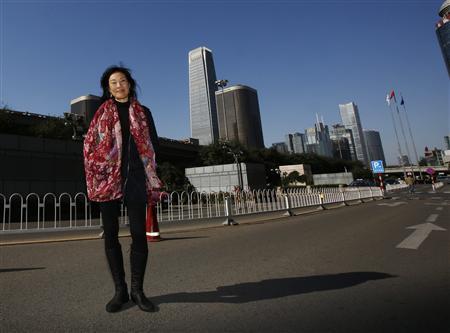 US producer Janet Yang poses during an interview with Reuters in Beijing October 19, 2013.[Photo/Agencies]
With a few exceptions, Hollywood studios are moving far more slowly than Chinese companies in the world's second-largest movie market, said US producer Janet Yang, whose works include "The Joy Luck Club" and "Shanghai Calling".
Many studios, like Paramount Pictures with its "Transformers" franchise, have been taking steps to appeal to China's fast-growing audiences by hiring Chinese actors or featuring Chinese products in their films.
Others are doing co-productions in China and some, like Dreamworks Animation, have forged nascent partnerships.
But largely "the studios are not doing that much right now. They are feeling it out," said Yang, 57, who has built a career melding East and West since she advised on Steven Spielberg's 1987 movie "Empire of the Sun", shot partly in Shanghai.
"I've never seen so much talk about things with so few results. But that's going to change," Yang, named one of the 50 most powerful women in Hollywood by the Hollywood Reporter, told Reuters during a visit to China.
"It's two different systems trying to come together, so a lot of dating and few engagements and marriages but probably more on their way."
Despite an import quota, Hollywood movies have dominated China's box office - until that changed dramatically this year.
In the period from January to June, domestic films outperformed imported ones by 65 percent. That was a major reversal from the same period last year, when proceeds from imported films almost doubled those of domestic productions.
The stakes are high. Last year, box office revenue in China was $2.8 billion. In the first six months of this year, it hit nearly 11 billion yuan ($1.8 billion).
Those sales lag North America's $10.8 billion last year but PricewaterhouseCoopers predicts the box office in the world's most populous nation will hit $5.5 billion by 2017. China has about 15,000 movie screens now and builds five to 10 each day.
Yang, who helped Disney adapt "High School Musical" for a Chinese audience, said US studios are taking mostly "defensive measures" to avoid alienating an increasingly important market but should start to think bigger.
"How about actually creating something that is appealing for the Chinese and also for the global market? I believe it's possible," said New York-born Yang.
Related:
More creative films by new directors expected: Chen Kaige
Daniel Wu's 'Control' to debut on Nov 21
'Transformers 4' director attacked on set in Hong Kong