A key Pearl River Delta industrial city, Dongguan, Guangdong province, hosted more than 10,000 people for a long-distance run on Monday as a prelude to the opening of the 2015 Vivo BWF Sudirman Cup for the World Mixed Team Championships.
The run, event organizers said, signified that the city is ready to host the international badminton event. In another sign of the city's preparedness, the event's organizing committee held a test match last month at the competition venue.
This year's Sudirman Cup badminton championships, approved by the Badminton World Federation, will run from May 10 to 17. An opening ceremony will be held on Friday.
Thirty-five badminton teams worldwide will compete in this year's event and more than 1,000 coaches, players, officials and journalists are expected to attend.
The event, held every two years, is the only BWF world event for men and women competing together on national teams.
The event made its debut in 1989 and three Sudirman Championships have since been held in China - in Beijing, Guangzhou and Qingdao.
"Dongguan has gone to great lengths to make sure the stadium, the facilities and arrangements are on par with international standards. The same is true for the promotional efforts," said Li Yongbo, head coach of the Chinese badminton team.
"You can feel how considerate and convenient the services are here. You can also see state-of-the-art technologies and a full array of cultural activities during the event," he said.
Venugopal Mahalingam, a BWF representative, said the "China Badminton Association, together with the local host, has set a very high standard with its organizing of the Sudirman Cup".
Yu Lijun, vice-mayor of Dongguan, said the city has been in high gear to prepare for the event since November.
She said preparations have all been right on track: from the power supply for the stadium; arrangements for accommodation and transportation; scheduling of matches; launching of ticket retail channels; ensuring customs-related affairs for international players, officials and media; recruiting and training volunteers; training security personnel to arranging event rehearsals.
Yu said the city has also launched promotional campaigns over the past half year, including media activities to announce the event and sponsorships; a party to celebrate a 100-day countdown to the event; a live drawing for matches; and 34 cultural and sports themed activities to usher in the Sudirman Cup.
"The preparatory committee has also taken advantage of new media to ensure that promotions reach a number of different audiences," Yu said, referring to innovative attempts to launch a game on WeChat, the popular mobile messaging app in China, to promote the Sudirman Cup and the event's mascot.
"The Sudirman Cup is good for promoting the sport of badminton internationally and locally. We are happy to have the opportunity to host the event," said Dongguan Mayor Yuan Baocheng.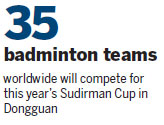 "Dongguan is in a very good position to have a successful event." Dongguan is renowned in China for its traditions in sports and its ability to host sports competitions.
Its well-developed economy and urban infrastructure as well as its clean environment make it an ideal location for the badminton event.
The birthplace of Chen Jingkai, the first Chinese weightlifter to break a world record in sports after the founding of the People's Republic of China in 1949, Dongguan is the only city in China that has two Chinese Basketball Association teams.
The city has 1,535 badminton courts and some 60 multipurpose stadiums suitable for badminton matches. About 500,000 residents play badminton regularly, according to city statistics. Dongguan hosted the China Open Badminton Championship in 1996, a badminton championship for the world's top four players - Lee Chong Wei of Malaysia, Lin Dan of China, Taufik Hidayat of Indonesia and Peter Gade of Denmark - in 2011, the 2012 China Badminton League and the China Badminton Super League of Season 2013-2014.
Dongguan's GDP reached 588.12 billion yuan ($94.8 billion) in 2014. It has over 20 five-star hotels and easy transit access to the international airports of Guangzhou, Shenzhen and Hong Kong.
Officially named an international garden city by the United Nations Environment Programme, Dongguan boasts over 1,000 square meters in ecological preserves, 10 forest parks, five nature reserves, 13 wetland parks and over 900 kilometers of greenways.
zhanlisheng@chinadaily.com.cn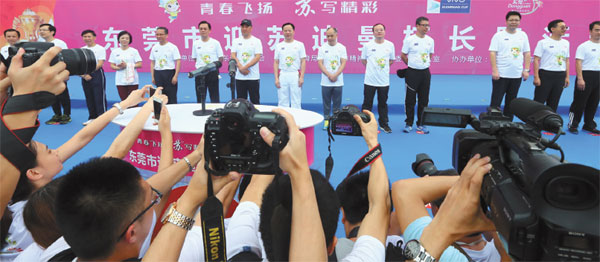 Dongguan leaders and national luminaries take part in a ceremony to welcome the long-distance run in the city.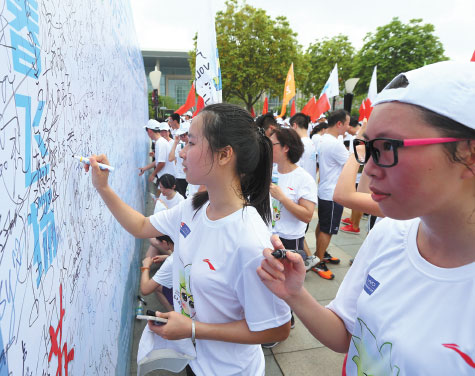 Students sign on a memorial board during the event. Photos Provided to China Daily
(China Daily 05/06/2015 page7)