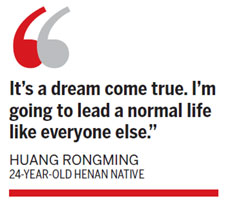 A man, who lived with a protruding and defective heart for 24 years, is finally able to walk upright. He tells Liu Zhihua his story.
For the first time in 24 years, Huang Rongming's heart is concealed and his belly flat.
"It's a dream come true. I'm going to lead a normal life like everyone else," says the young man from a mountainous village in Xinyang city, Henan province.