'Drop subjects that don't pay'
Updated: 2011-11-23 07:58
By Chen Jia (China Daily)
| | | | | | | | | |
| --- | --- | --- | --- | --- | --- | --- | --- | --- |
|   | | Print | | Mail | | Large Medium  Small | 分享按钮 | 0 |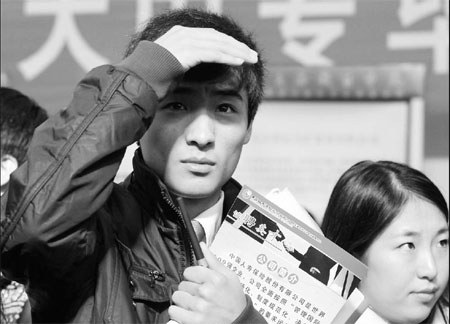 A college graduate searches for vacancies at a job fair in Tianjin on Nov 19. Li Xiang / for China Daily
BEIJING The Ministry of Education urged universities around the country to enroll fewer students in programs that usually lead to low employment.
Student intake in these unpopular courses will be downsized, even the programs canceled altogether, if less than 60 percent graduating in these subjects in two successive years failed to find work, said the ministry.
This is the latest move of the ministry in ensuring employment for university graduates, whose number will reach 6.8 million in 2012, an increase of 200,000 since the current year.
"I could have opted for majoring in another subject, if the ministry's policy change happened earlier," Wang Huan, a 27-year-old man working with a travel agency, told China Daily on Tuesday.
He majored in Russian language, but found his Bachelor's degree was not good enough to win him a decent job in 2006.
"Now most of my classmates are working in fields that do not require Russian-language skill, and I have forgotten how to speak Russian," he said.
Wang Bing, who manages a company for facilitating business in Russia, told China Daily that Russian language graduates used to be sought after in Northeast China years ago.
"But we have rarely hired graduates majoring in Russian language in recent years," he said on Tuesday.
However, teachers of the now-unpopular subjects have reasons to worry about the new policy.
"Enrollment was cut down from 50 students in 2008 to 25 this year," a Russian teacher in Shenyang Normal University, who refused to be named, told China Daily. "The new policy will further downsize our department, and many teachers might lose their jobs," the teacher said.
"It's too late for teachers to change what they majored in," the teacher said.
Han Zijing, a professor of Chinese language department, Chongqing Normal University, doubted whether reducing the number of students studying the so-called unpopular subjects was a good idea because "it is hard to define what a good major is".
For example, biology engineering used to be a hot major and drew talented students, but its market demand has remained small.
"The country still needs talents in this field with a long-term view, though many graduates are not able to find a decent job in the last two or three years," he said.
"The ministry should figure out a special measure to sustain the programs in subjects that may not lead to a high rate of employment, but are indispensable to the process of human cultivation, such as theoretical physics and history research," said Chen Xi, a 27-year-old doctorate candidate at the institute of semi-conductor under the Chinese Academy of Sciences.
He also questioned the basis of determining the employability of a particular subject. "What is the definition of high employment rate? Some students got jobs unrelated to their majors. Do they count in this pool as well?"
The ministry also said, for the first time, that small and middle-sized enterprises should play greater roles in attracting more university graduates, according to a notice released on Monday.
"Educational departments will endeavor to build more platforms to facilitate communication between graduates and these enterprises," the Minister of Education, Yuan Guiren, said.
"We will promote an information service system for university graduates around the country by July in 2012," he said.
"We are also researching how to make use of text message and micro blog to share employment information with students," he said.
Many institutes and companies were involved in developing related information system in China.
"We are targeting at bridging market demands and school supplies to provide an information platform to both parties," said Zhao Yuehua, a senior editor of the magazine China University Students Career Guide.
"We will feed students' profiles into a computer matching system, and serve both employers and employees," he said.
Liu Ce and Luo Wangshu contributed to this story.
China Daily
(China Daily 11/23/2011 page4)