Expert: Urban planning crucial to the future of mobility
Updated: 2011-09-14 08:04
By Xu Xiao and Tian Yang (China Daily)
| | | | | | | | | |
| --- | --- | --- | --- | --- | --- | --- | --- | --- |
|   | | Print | | Mail | | Large Medium  Small | 分享按钮 | 0 |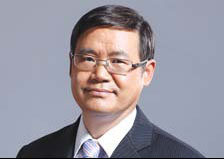 Carbon reduction will provide the major competitiveness for nations over the long term, said Pan Jiahua, director at Institute for Urban and Environmental Studies Chinese Academy of Social Sciences, calling on both policymakers and entrepreneurs to pay attention to the issue.
"For automakers, the highly anticipated development of electric vehicles with zero emissions will eventually be the future of transportation," said Pan.
The Chinese government has taken a clear stand to develop electric vehicles. A draft industry plan expected to be approved later this year envisions that China will have 500,000 electric vehicles on the road in 2015.
The government has also implemented policies to encourage consumers to buy electric cars. In several pilot cities, buyers can receive subsidies of up to 60,000 yuan from the central government in addition to various subsidies from local governments.
In Beijing, electric vehicle buyers are not required to join the lottery that issues car license plates, which was implemented at the turn of the new year.
But immature energy storage technologies and a lack of charging facilities mean it will be some time before electric cars are a common sight on the world's roads, Pan said.
The challenge is widely recognized. While many carmakers are busy developing pure electric vehicles and plug-in hybrids, power companies are making designs and working on the infrastructure for charging stations.
State Grid Corp of China, the largest power supplier in the nation, plans to build 173 charging stations and more than 9,200 individual charging outlets in 2011. It plans a total of 2,351 stations and 220,000 outlets over the 12th Five-Year-Plan period (2011-2015).
In addition to carbon emissions, traffic congestion is another major problem city managers face.
Long-term urban planning is the key to easing traffic congestion, in part through providing free or inexpensive parking places near subways or bus stations, said Pan.
He noted that although per capita car ownership in China greatly lags many other nations, the sheer number of cars still contribute to urban stress.
According to statistics from the China Association of Automobile Manufacturers, there were about 74 million vehicles on the roads in China by the end of 2010, fewer than the 75 million in Japan and one-fourth the number in the US.
Globally there are about 128 vehicles for every 1,000 people, but the number in China is only 55.
Pan said strategic city planning guidelines are crucial and new development zones need to have complete facilities for the workplace, food and housing so people do not have to travel long distances from home to office. The city also needs to clear blockages in what he termed "capillary vessels".
Valuable lessons that can be learned include practices to deal with urban traffic congestion in New York and London, which provide free or affordable parking at subway stations, he noted.
As well, some foreign cities also charge prohibitive fees for parking in the city, greatly easing the traffic burden.
Beijing hiked parking fees within Third Ring Road on April 1, with the highest rate 15 yuan an hour. According to a study a month after the new policy was implemented, the length of severe urban traffic congestion each day was markedly shortened as a result.
"Taxes on traffic congestion are needed in some cases," said Pan. "But we should make sure that no one enjoys special privileges."
(China Daily 09/14/2011 page8)