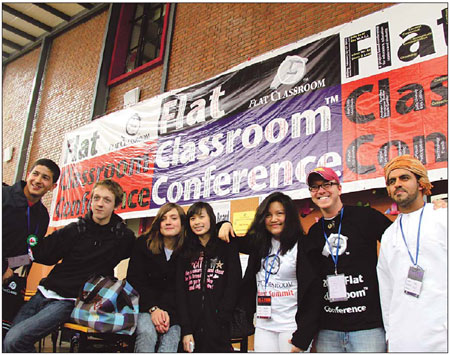 Participants at the Flat Classroom Conference pose for a photo at the Beijing BISS International School on Feb 27. In all, 14 schools, 100 students and 150 teachers participated in the project. Photos Provided to China Daily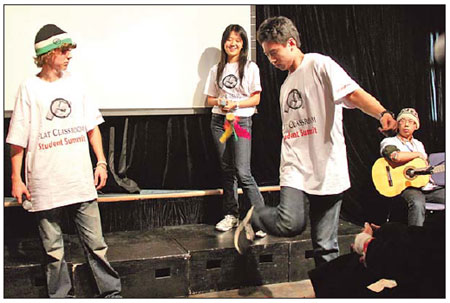 Adam Zimmerman(left) from Britain and his team members present a skit on national stereotypes.
Last weekend, hundreds of students and teachers from all over the world "sat" in a "flat classroom" discussing the role of modern communication tools in creating a better and flat more harmonious world.
Together with four other team members, Rhea Singh, an Indian student from Beijing BISS International School, proposed a website to introduce different countries' histories and cultures.
"People move a lot from one place to another, we are all international people," she said. "This website is designed to give people an idea of what to expect when they move to a new country."
Inspired by Thomas Friedman's book The World is Flat, Vicki Davis, a teacher with Westwood Schools in the United States, and Australian Julie Lindsay launched the global collaborative project that joins together middle and senior high school students.
"One of the main goals of the project is to flatten or lower the classroom walls so that instead of each class working isolated and alone, two or more classes are joined virtually to become one large classroom. This is done through the Internet using Web 2.0 tools," said Lindsay, who is also the e-learning co-ordinator with BISS International School.
Under the unifying theme "Our Global Future Together", the conference featured two summits.
For the students' summit, 100 students were divided into 20 teams, with each required to come up with ways of creating a better society and then pitching their ideas to a group of teachers who gave them feedback.
After this, each team had to create a storyboard to explain how to implement the concept, which they then presented to teachers and international voters. The top six teams put together a final presentation for the closing ceremony on Sunday.
"It took us a long time to sort out the teams because we had to make sure students from the same schools and same countries were not in the same team," said Lindsay.
Participating students said learning about different cultures and the interaction and collaboration with people from different cultural backgrounds was one of the best things about the conference, but they also grasped some practical skills such as multi-media and how to make a video.
"I learnt to use Web 2.0 tools to edit a short film and to make a keynote slide. We used Skype to talk to children from all around the world," said Coco Yu, a forth-grade student with Yew Chung International School in Beijing.
For the teachers' summit, teachers pitched their curriculum ideas to students, and students gave them feedback. For example, after discussions with students, one team figured out that virtual storytelling would help motivate students to practice a second language.
"What has happened with social networking over the past five years will be the next five years of education," said Davis. "This is a slow process and we are only at the very beginning."
"With students from China going to the US and students from Africa going to Europe, we will discover that not all Americans are fat and not all Chinese are short," said Adam Zimmerman, an 11th grade student with West Academy of Beijing.
China Daily
(China Daily 03/01/2011)