The year has seen Chinese cinema mature with films that have not just performed well but pushed the boundaries in terms of plot and execution. Raymond Zhou picks the top 10.
Chinese cinema is expected to pass a milestone in 2010. Its gross box-office revenue is likely to be more than 10 billion yuan ($1.5 billion) for the first time (counting just the mainland). That's roughly the same as the US box office in dollar terms. If you factor in the currency disparity, per-capita, consumption and the ancillary market such as television and DVD rights, it is still minuscule, but hints at the vast potential that has been tapped into seriously only in the past five years.In terms of the quality of offerings, Chinese cinema has always been the target of public ridicule. Simply put, it is an industry people love to hate and yet cannot stop talking about. This year, diversity has taken reign and big-budget period dramas with their all-too-familiar sequences of kungfu fighting have given way to a rich crop of genres, some hard to categorize. Whatever your taste, you will find something to your fancy. The following are 10 feature films our editors consider worth recommending.
Let the Bullets Fly
This is a year when China's triumvirate of top filmmakers (Zhang Yimou, Chen Kaige and Feng Xiaogang) all had new releases, but were upstaged by someone who calls himself "an amateur".
Jiang Wen is an actor-turned-director and has made only four full-length features since 1994. But the scarcity of his output correlates with high quality.
His new movie (pictured above), set in the early 20th century, is a fast-paced heist movie. Well, "heist" could be a misnomer because the coveted object is the position of a county magistrate and all the loot it comes with. It also has the feel of a western when scenes move outside the county town.
Jiang has a sense of humor that's not just black, but pitch dark. Many of the lines have layers of meaning, which may yield contradictory interpretations. His subtle use of anachronism and the symbolic meaning of many scenes and props have become an object of cinephile obsession. All actors are perfectly cast.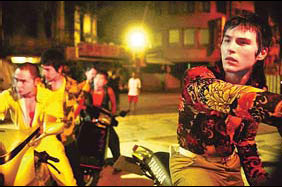 Monga
Gangster movies have been done to death in Hong Kong. So, when Taiwan's Doze Niu tried his hand at this hoary genre, nobody expected him to breathe new life into it. The story is predictable, but the way he tells it, with a refreshingly good-looking young cast, has turned heads and created a box-office bonanza.
Though not shown officially in the mainland, the movie has strong word-of-mouth and was avidly downloaded and watched. Essentially this is a coming-of-age story framed in a gangster narrative. The chase and fight sequences exude a vim and vigor that's more musical than a crime spree. The theme of bonding has a sincerity reminiscent of a good love story.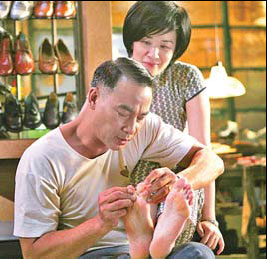 Echoes of the Rainbow
This intimate story of a Hong Kong family struggling through the 1960s and 70s is a microcosm of the British colony and its Chinese inhabitants on the verge of an economic miracle.
Based on the family history of writer-director Alex Law, it is full of bittersweet details. Simon Yam and Sandra Ng deliver top-notch performances of restraint and refinement.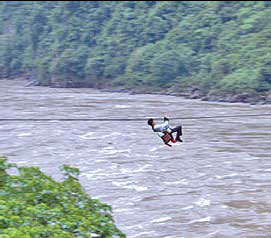 Deep in the Clouds
This small movie has not had a wide release yet, though it won several accolades at the Shanghai Film Festival. It is about a mountain village caught between the need to protect the eco-system with its black bears and the yearning for a better life.
Using locals who had barely seen a movie and an ethnic language not even understood by the director, the movie has an authenticity and also a lyrical beauty rarely seen in a message film.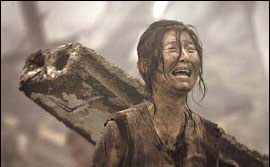 Aftershock
Book-ended by two major earthquakes, beginning with the Tangshan earthquake of 1976 and ending with the one in Sichuan in 2008, this is supposed to be a disaster film, but Feng Xiaogang mustered the courage to turn it into a family drama of love and generational misunderstanding.
Perhaps it is easier to approach the movie as a Chinese equivalent of Sophie's Choice. There are details in the movie about survivors hardly known to outsiders, such as the annual ritual of burning paper in the early morning of the anniversary of the loved one's death. Xu Fan's performance packs a punch in portraying a survivor's guilt and the love of a mother under life-and-death circumstances.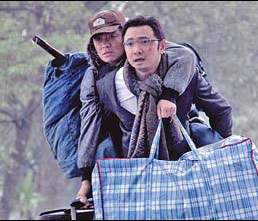 Lost on Journey
This little comedy could have been inspired by Planes, Trains and Automobiles, a Steve Martin laugh fest about the trials and tribulations of a journey back home. The Chinese version consists of uniquely Chinese situations, with the duo of comedians representing two halves of society.
The movie is perfectly paced, with plenty of comic chops to keep one laughing. It also has a heart that goes to those less fortunate. While all ends well, the journey is symbolic on a certain level of what the country is going through on the whole.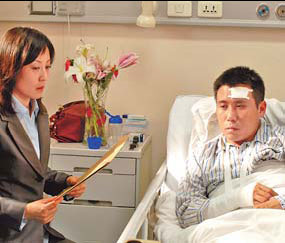 Vegetate
This is social realism at its most critical, the kind of movie enshrined in Chinese textbooks yet rarely seen on the big screen. This sharp criticism of China's pharmaceuticals industry, which churns out so many products you'd wonder if there is any testing or inspection, is built on a series of twists and turns that's melodramatic on the surface yet hint at inner truth.
A worthy follower of Julia Roberts' Erin Brokovich or Russell Crowe's The Insider, Vegetate falls short on casting and the absence of star power hinders its box-office performance.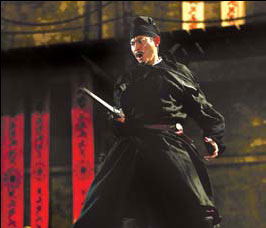 Detective Dee and the Mystery of the Phantom Flame
This lavishly produced whodunit shows China during its most extravagant period, the Tang Dynasty (AD 618-906), with the sole female ruler in its history, Empress Wu Zetian, on the throne. The intricate plot keeps the audience on edge and the starry cast is matched by the mammoth but ingeniously conceived set.
It is a Chinese response to the new Sherlock Holmes movie starring Robert Downey Jr., but Detective Dee, though a historical figure, was mostly created by a European sinologist. So, cross-cultural influences go to the very root of this action suspense thriller.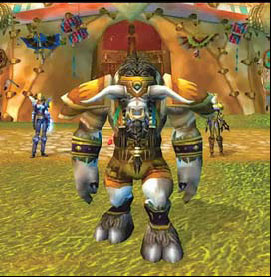 The War of Internet Addiction
This is not a theatrical release, but an online feature made by maneuvering visual elements in games, but with an original storyline and dialogue dubbed by people all over the Net.
But the movie is more than a technical feat. It gives voice to a huge swath of the online population whose frustrations at being cut off from their favorite online game has come to exemplify an age of angst and anger. The climax scene is so heartfelt it has the effect of a bolt of thunder.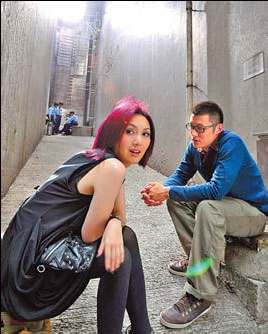 Love in a Puff
Pang Ho-Cheung captures the urban vibe in this quietly observant study of modern dating.
The free-flowing plot is a reflection of a new generation with its laissez-faire attitude and hard-to-define notions about love.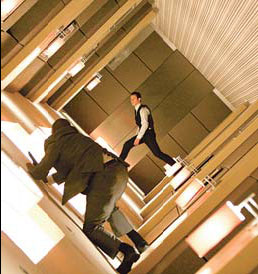 Honorable mention:
Avatar and Inception (pictured above) are not Chinese fare, yet their impact has gone beyond the film industry in China.
The former has set a new box-office record that may take years to be surpassed and along with it, a new standard for technical excellence and imagination.
The latter has kindled a public interest in dream interpretation, something Sigmund Freud never achieved on such a scale among the Chinese populace.
(China Daily 12/28/2010 page18)