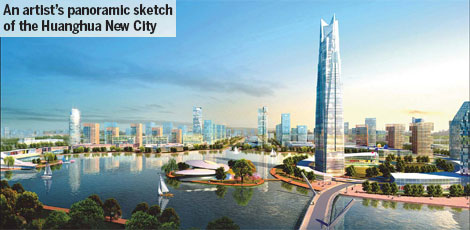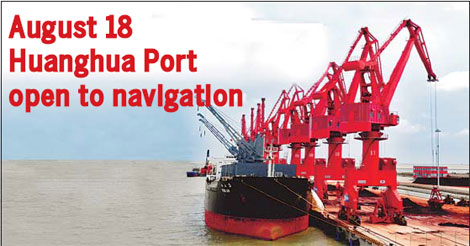 Huanghua Port has promoted nearby business development.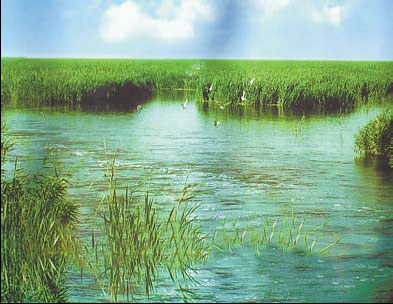 A wetland within the Nanda Port in Huanghua.
Established in 2007, the Bohai Sea New Area is located in southeast Hebei province, just west of the Bohai Sea and south of Beiijng.
It includes Huanghua city, Zhongjie industrial park, Nandagang industrial park and a chemical industrial park. It covers 2,400 sq km, with 130 km of coastline. The Area has a population of 550,000.
A promising new economic center, it includes Huanghua Port, offering traders access to north China.
A new hub
The anticipated port will cover 80 sq km and have 209 berths. It will have sections for coal and bulk-cargo, while also boasting comprehensive and supplemental port areas.
The port's development will be completed in three stages. Though it will open August 18 with a 100,000 ton capacity, the finished construction will handle up to 250,000 tons.
Officials hope the port can become northern China's key shipping center, taking on 500 million tons of cargo annually.
As part of the new Eurasia continental bridge, Huanghua Port will offer three different rail routes to Europe and other Asian countries.
The main route concludes in the Netherlands, extending the previous Eurasia continental bridge by 500 km and reducing shipping costs by 20 percent.
A sub-route will canvass southern Hebei and Central China. Another will run to Shendong coalfield in northern Shaanxi, forming China's second longest west-east coal shipping passage.
The new routes showcase Huanghua Port's potential for aiding regional economic development.
Easy transportation
As a regional transportation hub, Huanghua Port boasts national highways 205 and 307, the Shijiazhuang-Huanghua and Tianjin-Shanwei express ways and the Shenmu-Huanghua railway.
Additionally, several other road and rail routes are under construction, including the Baoding-Cangzhou express way and the Handan-Huanghua railway.
The port serves 43 inland cities covering 1 million sq km. Collectively, they boast a population of 140 million, and a gross domestic product of more than 2 trillion yuan.
The Taiyuan-Zhongwei railway, expected to open for freight by year's end, will connect the port with additional areas in Hebei, Shanxi, Shaanxi, Ningxia, Gansu, Xinjiang, Qinghai, and Tibet.
City expansion
Nearly 260 sq km have been allocated for development of an industrial park within the Bohai New Area. The park will bring together modern manufacturing, electricity, new energy and modern logistics.
It won't be the area's first. Nearby Lingang chemical industrial park is applying for recognition as a national industrial park. And key projects by Zhongjie Petro's capacity upgrading and Jinniu' PVC program are already underway.
SinoSteel's ferronickel project and Dalipa's casting program will be operational by the end of this year. Xinjiang province and Henan's Luoyang will shift steel business operations into Bohai, while Shijiazhuang Iron & Steel plans to produce 6 million tons of product there.
Experts predict Bohai New Area will have an annual output of 30 million tons of new materials, 10 million kW of electricity, 20 million tons of refined oil and 10 million tons of pipeline equipment within five years.
The local government is working to transform the area into a regional logistic center.
And city development is also on the agenda. According to current plans, a new Huanghua accommodating one million citizens will take shape within 10 years.
The local government has allocated over 60 million yuan to the project and commissioned several first-class development firms. A 40 km modern traffic network is already in partial operation.
Nearly 2.6 billion yuan has been invested in infrastructure, while five arteries connecting the city with nearby ports are under construction. 10 billion yuan has been assigned to initial phases of the city construction.
Prosperity
Thanks to its favorable geographic location, Baohai New Area is on the fast track to prosperity. It has a non-agricultural area of 1,700 sq km, 307 sq km of intertidal zones and 1,051 square km of shallow sea. It is the least populated of China's coastal regions.
Bordering on the Dagang and Huabei oil fields, Bohai has more than 200 million tons of proved reserves. PetroChina, Sinopec and Huanghua oil refineries have a combined annual output of 10 million tons of oil.
The west-east Shanxi-Beijing gas pipe line also runs through the area. And 2.2 million acres of salt fields provides 1.5 million tons of crude salt every year.
Efforts are now being made to accelerate industrial development. Coastal areas in Tangshan, Qinhuangdao and Cangzhou are expected to become hubs for eco-friendly industry.

Shenhua Hebei Guohua Cangdong Power Generation Co Ltd expects to promote local economic development.
Zhongjie Petrochemical Group Co Ltd in Hebei is now one of the key enterprises in the Bohai Sea New Area.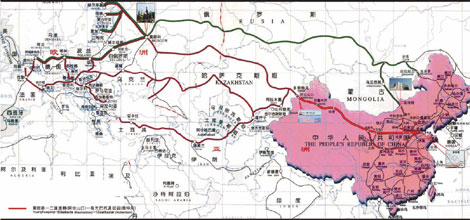 Huanghua Port now serves as the bridgehead of the Eurasian Continental Bridge between Asia and Europe, which is the main passage connecting China and Europe.
(China Daily 08/17/2010 page18)