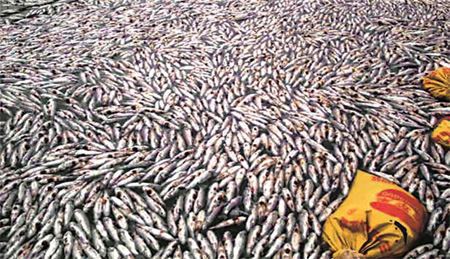 Water contaminated by toxic waste from a copper mine killed at least 1,890 tons of fish in Shanghang county of Fujian province. Provided to China Daily
Fishermen, residents reel from toxic waste that leaked into river. Wei Tian, Hu Meidong and Zhu Xingxin in Fujian, and He Na in Beijing report.
Qiu Yonglu knew something was wrong when his fish refused to eat and kept circling their pool. Ten days later, they began dying.
On July 12, almost a month later, he finally discovered what had poisoned his fishery when environmental authorities in Fujian province confirmed that toxic waste from Zijinshan Copper Mine had leaked into the Tingjiang River.
By that time, Qiu and his neighboring farmers in Shanghang county lost at least 1,890 tons of fish.
Tingjiang River - dubbed the "Mother River of Hakkas", an ethnic group with a large population in Southeast China - flows through four Fujian counties and into Guangdong province. About 2 million people live along its shores. For many, the waterway is vital to their livelihood.
According to a statement issued by Zijin Mining Group, one of the country's largest mining companies and gold producers, the sewage released contained "copper iron but no extremely toxic substances".
"Although copper is not one of the top heavy-metal pollutants, like lead and mercury, excessive copper in the body can damage the liver and gallbladder, as well as the brain," said Wang Shengrui, a researcher with the State Environmental Protection Key Laboratory for Lake Pollution Control.
Copper, he explained, becomes attached to the body of fish and shellfish, which contaminates the food chain, and settles into the mud and sand on the riverbed.
The pollution is also irreversible. Unlike chemical compounds which can be decomposed or diluted, once heavy metals are released into water or on land, they are difficult to extract and will have a long-term negative impact on the area, he added.
For Qiu and his fellow farmers, the warning came too late.
"If we had been told earlier, we would have transferred the fish to safe ponds and saved a lot of money," complained the 38-year-old, who lost more than 50 tons of his fish because of the spill. He pointed to several empty bottles of fish medicine he said cost thousands of yuan.
Fishermen in Shanghang appealed to the authorities for help several days before the pollution announcement. After receiving no response, angry villagers blocked the gates of the county government building on June 23 with tons of dead fish.
Officials immediately vowed to launch a thorough investigation into the cause of the problem.
"But things turned worse on July 3 as large numbers of fish began to die," said Qiu. "The surface of the water was covered with layer upon layer of dead fish. We tried to clear them so we could save those alive underneath but they were already beyond salvaging."
The distraught farmer now plans to leave his native Huangxi village and return to his old job as a taxi driver in Xiamen, a city on the Fujian coast.
"Less than a month ago, I owned a 1,000-square-meter nursery with more than 100,000 jin (50 tons) of fish. I've lost them all," said Qiu, who has an 8-month-old son.
Qiu returned to his hometown in 2008 to open a fishery with the 110,000 ($16,000) he managed to save while driving a cab. Within two years, he had doubled the size of his farm and was making 200,000 yuan a year.
His goal had been to earn 1 million yuan in 2010, yet today the only reason he visits his fishery is to feed his dog and a handful of ducks.
"I used to live here for a month at a time without having to go ashore," he said wistfully. "During the day, there were trucks lining up to buy our fish. We (the whole village) used to sell 20 tons a day."
Drinking danger
Despite the damage the spill has done to livelihoods and aquatic life, though, it is unlikely to have an impact on the usage of drinking water in the area - as villagers already refuse to use water from the river.
"Everyone knows the water in Tingjiang River has not been drinkable since Zijinshan Copper Mine opened upstream (in 1993)," said Qiu.
Although the river runs through four counties, only Shanghang still relies on it for tap water. Residents in other towns prefer to fetch supplies from natural mountain springs, sometimes even kilometers away.
Jiang Zhijian, who lives about 20 km upstream from Huangxi, said he and his family have not drunk from the taps in their kitchen for more than five years.
"We only drink mineral water or purified water that we buy from shops," said the 35-year-old. "For us, tap water is for laundry, mopping and flushing the toilet only."
Jiang's attitude is not unique, although not all of the 100,000 or so people who live in Shanghang can afford the 50 yuan it costs a month to buy bottled supplies.
"In some restaurants, dishes that are cooked without using tap water have become a selling point," said the villager. "But it's hard not to consume tap water as some point in our daily life.
"Of course, we understand the harm that can be caused to the body, but we know that the effects of heavy metal poisoning are long term so we have learned to get on with it," he added. "The dead fish thing has just brought attention to an issue we have been living with for years."
The pollution leak is not the first disaster Qiu has encountered since he opened his fishery, either.
Last September, a large number of fish also died, prompting the authorities to suggest the problem was caused by over-farming by fishermen, which was reducing the level of oxygen in the water. Farmers were ordered to reduce their stocks.
Jiang said residents also received a notice days before the June 7 gaokao, or national college entrance examination, warning them "not to allow students to eat fish".
History of problems
Zijin Mining Group, which is listed on the Hong Kong and Shanghai stock exchanges, has had problems with pollution before, according to Ma Jun, director of the institute of public and environmental affairs, a non-governmental group based in Beijing.
The Ministry of Environmental Protection in May issued a statement criticizing 11 listed enterprises for environmental damage, he said. Zijin Mining Group was one of those on the list.
"We don't know much about Zijin Mining," said Huang Zhongxiang as he waited anxiously to weigh in his dead fish in order to get his compensation. "All we care about is the fact the number of fish is decreasing quickly."
Fujian authorities have pledged to pay 12 yuan for every kilogram of fish that is handed over to them, dead or alive, to cover the losses of those who suffered from what they call "an enormous environmental disaster". Officials also want to prevent contaminated fish being sold to markets.
For some business, though, the amount is unlikely to cover all of their losses.
"Some of the more expensive fish, such as the guang fish, fetch 24 yuan per kg on the market," said Huang, whose fishery is in Hetou village. "All we can do now is sell them for 12 yuan. It's better than nothing."
"I owe money to the bank, my fish food provider and some friends," added Qiu, whose fishery is worth an estimated 1 million yuan. "How can I pay off all these debts if I only get 300,000 yuan in compensation?"
Qiu has refused to sign the compensation agreement offered by the provincial authorities.
All of the dead fish collected by the government are quickly packed in plastic bags and transported to remote mountain areas to be buried.
"We have been burying tons of fish here every day for the last three days," said an excavator driver surnamed Wang at one burial site. He explained that he earns a fairly decent 180 yuan per hour, although the stench at the site is almost unbearable.
Huang said he had heard a few villagers have been visiting the burial sites to steal dead fish and then resell them to the authorities the next day.
Fears for the future
Following the severe pollution in Tingjiang River, government officials have banned villagers from running fisheries on the waterway for at least three years.
"Our biggest worry is our future," said Huang. "What are we going to do if we can't be fishermen?"
The villager has worked a fishery since 1998, when his previous home and farmland was submerged as part of construction of the Mianhuatan hydropower station. Now he must find a new career.
Qiu showed China Daily a leaflet distributed by officials that lists the types of jobs the out-of-business farmers can consider, while promoting the training sessions provided.
"Most are technical jobs that pay 3,000 yuan a month at most," he said. "I am almost 40. Even if I have the time and energy to be trained, how am I going to feed my family with this salary?"
He said he could earn 5,000 a month driving a taxi in Xiamen.
"I still hope the government tells us how soon the river will be ready to breed fish again," said Qiu. "If it's within 2 or 3 years, I would choose to stay and start again. After all, I love being a fisherman."
Scientist Wang Shengrui explained that, if the pollution is minor, the water quality of the river should recover naturally within five years.
According to the latest report by the Fujian environmental protection department, PH tests show the water standard to be at Level 3, which is suitable for swimming and fisheries.
Statistics from the Ministry of Environmental Protection show 9,123 enterprises were involved in heavy metal pollution during production in 2009. Almost 2,200 were found to be harmful to the environment, with 231 closed down and 641 ordered to halt all operations.
A draft of the Planning of Comprehensive Heavy Metal Pollution Control regulation has already been drawn up by the Ministry of Environmental Protection and will be put into force after approval by the State Council.
Meanwhile, NGO director Ma urged officials to increase the amount of compensation to help those recovering from the Tingjiang River leak.
"What will these fishermen do in the future? The company needs to pay more and the practice needs to be promoted in other pollution cases in the future," he said.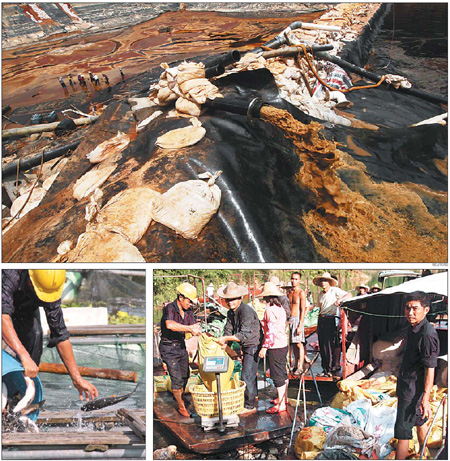 Clockwise from top: Sewage water is drained from a leaking tank at a copper mine owned by Zijin Mining Group in Shanghang, Fujian province. The leak polluted a river and reservoir, killing about 1,800 tons of fish; Fishermen weigh bags of dead fish in order to claim their compensation. The Shanghang county government pledged to pay 12 yuan for every kilogram of fish handed over, dead or alive; A worker collects contaminated fish from the river. Wang Dongming / China News Service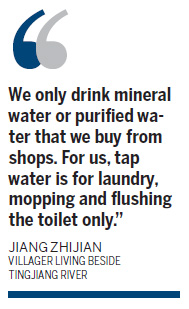 (China Daily 07/16/2010 page1)