China may be ready to fine-tune, if not to end, its 30-year-old family planning policy - rules that helped fuel the country's economic miracle by preventing 400 million births, but which brought their own challenges, including an aging population.
Adjustments, such as the encouragement of urban couples comprising two only-children to have a second child, and the abolition of the four-year interval between births in the countryside, have been made across the country in recent years.
"We've noticed the challenges and are researching a comprehensive and sustainable policy, which covers not only the size, but the structure, quality, and distribution of the population," Zhao Baige, deputy director of the National Population and Family Planning Commission, told China Daily.
"The family planning policy, mainly about the quantity, is just part of a comprehensive population policy we are working for," she said.
Zhao, however, stressed that the policy, which restricts most urban couples to just one child, has proven to be successful in improving the lives of Chinese people and in helping to stabilize the world's population growth.
As a result of family planning programs implemented since 1979, couples in China now have an average of 1.8 children, a birth rate that has been steady for 17 years.
The number of children per family had been 5.8 in the early 1970s.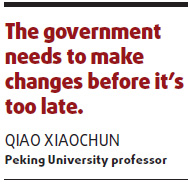 "The ethical obligation of our generation to our children and grandchildren must include slowing rapid population growth by meeting the unmet need for family planning," said Malcolm Potts, director of the Public Health School of the University of California, Berkeley. "Personally, I prefer small families, if they want it as well."
The Human Development Index of China - which measures life expectancy, educational attainment, and GDP per capita - increased by 50 percent in the past 30 years, twice the world average.
However, experts say the policy has also had its share of problems and they say now may be the time for some amendments.
With a birth rate of 1.8 children per family, China's working population will dwindle by 10 million people each year after 2025, and the number of young people - aged 20 to 24 - will fall by a quarter in the 2030s, estimated Zeng Yi, a population economist with Peking University.
Some argue the decline in the size of the workforce might be offset by advances in technology, such as artificial intelligence, but that will take time.
China has already been experiencing a shortage of skilled workers in the southern economic powerhouse in the Pearl River delta.
"The government needs to make changes before it's too late," said professor Qiao Xiaochun from Peking University.
Gill Greer, director general of the International Planned Parenthood Federation (IPPF), echoed the sentiments.
"I hope China will learn from other countries about different ways of doing things and will work hard to be innovative in family planning," she said.
Because China has now entered a period of low fertility, the previous task of controlling the ballooning population is no longer urgent, she said.
In China, where children often take care of their parents and grandparents in later life, people without siblings have the full responsibilities of having to look after dependents.
Currently, China has 41,000 assisted-care institutions with 11.6 beds for every 1,000 people. That is far less than the 50 beds per 1,000 typical in developed countries, said the China National Committee on Aging. Currently, 10 percent of Chinese are older than 60. That number is expected to rise to 30 percent by 2050.
(China Daily 10/24/2009 page3)