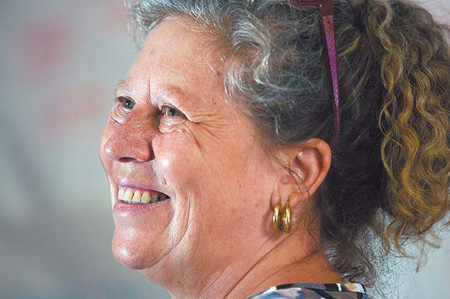 Australian photographer and art director Catherine Croll has become a cultural ambassador between two worlds. Jonah M. Kessel
Since 2005, China is Catherine Croll's second home. A photographer and printmaker engaged in multi-disciplinary arts practices such as installation and video art, Croll has spent the last four years facilitating arts exchange between Australia and China.
Her journey in arts management began with planning and hosting community cultural development programs in Australia.
When Broken Hill Property Ltd, the second-largest multinational mining company in Australia, was leaving Newcastle, the whole town went into mourning and Croll was summoned to lift the community's spirits. Books and memoirs were published, performances and exhibitions were held.
The use of art as an effective tool to fight negativity and build bridges between people was proved all over again when she went on an extensive tour of the Chinese mainland, supported by a grant from the Australian Council of Arts. The idea was to research and document traditional cultural practices in China. In three months she had clocked 40,000 km, traveling exclusively by train, picking up basic Mandarin nouns from the young people she met on the journey, asking them to identify the images on flash cards she carried.
She explored all forms of art - calligraphy, handicraft, textiles.
"I was curious about where they all came from and how traditional cultural practices were being used by contemporary artistes, how Chinese brush, ink and woodblock might be used to tell a new story about contemporary China."
In 2007, after a whirlwind tour through 40 cities in China, she earned herself a residency with Red Gate Gallery in Beijing.
Her findings about the country's immensely vibrant and diverse cultural landscape went into a series of books: China: a Portrait, China: a Passage, China: a Palate and so on.
Curating the From Mao to Now show at the Sydney Olympic Park in 2008, a cultural show to mark Beijing Olympics, reaffirmed her Chinese connection. Eighty Australian Chinese artists were featured, showcasing how the art of the two countries keep inspiring each other.
In May 2009 Croll curated the Sydney Olympic Park Traveling Exhibition at 798 art space in Beijing, 37 Chinese Australian artists got a taste of "engaging in passionate cultural dialogues" besides going for studio visits, collaborative ventures and artists-in-residence programs.
She is optimistic about Australian artistes being able to take back a world of experiences from Beijing's "dynamic and vibrant" art scene.
As for her own role in this cultural exchange, she says it rests primarily on the ties she has forged with both Chinese and Australian artists.
"There is a huge pleasure in seeing new opportunities being built and new relationships established," she said.
(China Daily 10/19/2009 page16)