PM Fredrik Reinfeldt looks to stronger ties

Updated: 2008-04-14 07:23
Dear Friends,
I am pleased to have the opportunity to make an official visit to China. I am proud to be accompanied by a delegation consisting of many important Swedish companies.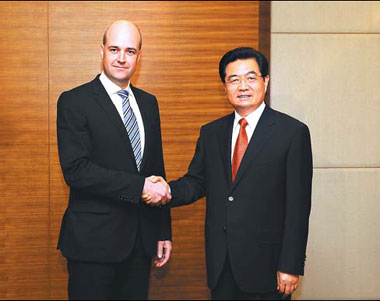 Chinese President Hu Jintao shakes hands with Prime Minister of Sweden Fredrik Reinfeldt in Boao, south China's Hainan province, on April 12, 2008. Li Tao
Today Sweden and China cooperate in a number of areas such as trade and economics, environmental protection, social policies, innovation policy, legal reform, human rights, urban planning and information technology.
I can see that China is becoming increasingly committed to improving the environment. At the same time, the problems are huge and pressing. As China's development continues, I am proud to see Swedish companies contributing to innovative thinking, high technology solutions and care for the environment.
I would like to see much more cooperation in the field of addressing climate. By working closer together, we can achieve significant results.
Increasingly, Swedish companies carry out research and development in China and aim at serving the Chinese customers rather than only focusing on exports. According to official Chinese estimates, Sweden is the fourth country within the EU in terms of technology transfer to China.
I hope my visit will promote further cooperation and exchange in all these fields. As China's economy grows and as the country's reform process continues to deepen, we will have further opportunities to develop our cooperation.
-Prime Minister
Fredrik Reinfeldt
(China Daily 04/14/2008 page13)