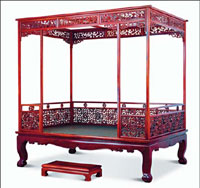 This Ming Dynasty canopy bed is decorated with Chi dragon patterns and made from Huanghuali wood. The dragons are finely detailed inside the circles, surrounding the structure. This Ming-style furniture is very rare.

Red sandalwood is very precious and furniture made from this wood is a national treasure. Red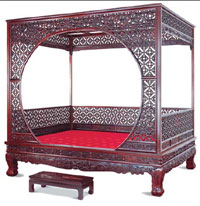 The Ming Dynasty-style canopy bed is made from red sandalwood and is a reproduction from an original on display at the Palace Museum. The circle is symbolic of unity for married couples.

sandalwood art is considered the cream of Chinese traditional arts and crafts.

The China Red Sandalwood Museum, the nation's first and largest private theme museum, specializes in the collection, display, and research of classical red sandalwood furniture and works of art.

The museum was founded by Madam Chan Laiwa in 1999. Although of fairly recent origin, its creative style of presenting exhibits has won it wide notice both at home and abroad.

The museum is dedicated to protecting China's historical heritage. Traditional craftsmanship reached its climax during the Ming (1368-1644) and Qing (1644-1911) dynasties. Ming-style furniture making was highly developed. Artisans also created masterpieces during the Qing Dynasty by using new techniques.

The ability to craft furniture in the Ming and Qing styles is a precious cultural heritage. With the help of experts, several hundred artisans and use of good timber, Madam Chan has been able to replicate furniture of that period, offering people a look into the superb carving skills of Chinese artisans.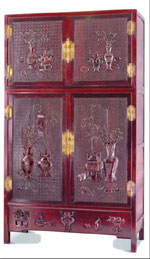 This Qing Dynasty cabinet is decorated with a Bogu pattern. Vases are filled with flowers and incense burns inside special bowls.

Historically, furniture that was both practical and artistic was usually reserved for imperial use.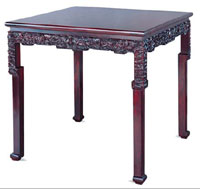 This Qing-style square table has splayed legs and is intricately decorated with cloud patterns.

The Forbidden City served as the palace for emperors of the Ming and Qing dynasties. Precious wood from all over China was stored in the "Imperial House" and at the "Manufacturing Department" during the Ming Dynasty.

Well-known artisans from north and south China were gathered together to produce furniture for imperial use. Most of the furniture from the Ming and Qing dynasties collected by the Palace Museum is representative of use in the imperial households.

Madam Chan has reproduced much of the furniture collected by the Palace Museum and has also made architectural miniatures such as the Corner Tower, the Qian Qiu and the Wan Chuan Pavilions in the Imperial Garden.

While the Palace Museum has supported and helped in the establishment of the China Red Sandalwood Museum, the latter has brought the ancient heritage of the Palace Museum back to life and facilitated the passing of Chinese culture to future generations.

The China Red Sandalwood Museum owes a lot to Madam Chan's love for traditional culture and red sandalwood art, for which she has spent large sums of her own money.

She has transformed her personal hobby into a mission of preserving Chinese culture. The picture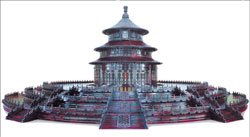 This is a detailed model of Qi Nian Dian (the Hall of Praying for Good Harvest) inside the Temple of Heaven in Beijing. It was a gift by the Red Sandalwood Museum to the Palace Museum in 2005 to mark the 80th anniversary of the Palace Museum. The scale is one to 15.

album Li Zhi Hua Tang embodies the effort put in by her as curator into the establishment of the museum and its future direction.

Li Zhi Hua Tang China Red Sandalwood Museum, a picture album edited by Chan Laiwa and published by Cultural Relics Publishing House. pp 300. Price: 380 yuan.

The author is director of the Palace Museum and vice-minister of culture

(China Daily 02/23/2007 page10)