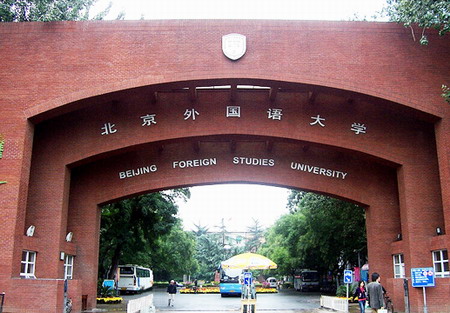 The gate of Beijing Foreign Studies University [file]
Beijing Foreign Studies University is a university in Weigongcun, Beijing, People's Republic of China. The campus occupies 304,553 square meters, with a student dormitory area of 40,000 m² and a library of 9997 m², and is divided in two by Beijing's Third Ring Road. Other facilities on campus include an audiovisual center, dining halls, and tennis courts. The university is popularly known as Běiwài in Mandarin and BFSU in English.
The university claims to have evolved from the Yan'an School of Foreign Languages based on the Russian Language Unit of the Third Branch of the Chinese People's Anti-Japanese Military and Political College. The latter was established by the Communist Party of China during the Japanese invasion.
BFSU has been China's principal base offering foreign language training. BFSU was affiliated with the Ministry of Foreign Affairs from its establishment to the early 1980s and is now a key university under the Ministry of Education.
BFSU qualified for the first round of the competition in its efforts to enter Project 211, a university development programme launched by the Ministry of Education in 1996.
Some 115 faculty members are recognized by the state for their academic performance and receive state subsidies.