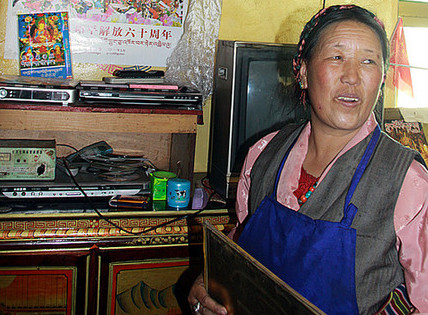 Yanglha, a 50-year-old Tibetan woman, makes pengpi and sells them out of her house, in Tibet's Xigaze prefecture. [Photo by Song Wei/chinadaily.com.cn]
One of the most famous snacks in Tibet's Xigaze prefecture, pengpi is a kind of curd made with pea flour. It is said that you have not been to Xigaze until you've had pengpi.
The first story of Yanglha's house is also her workplace. The 50-year-old Tibetan woman provides Xigaze's best pengpi.
Even though there is no sign above her house, locals, tourists, and foreign visitors are always able to find their way to Yanglha's house for the delicious snack.
Yanglha said she learned the skill of making pengpi from her two older sisters about 30 years ago, and she has been making them ever since. "There is no exact date when pengpi originated, but its history can trace back to the discovery of peas," Yanglha said.
Yanglha gets up at 5 am every day to make pengpi, which allows her to make 300 yuan ($46.98) a day. "It is not expensive, and usually for one person, 1 or 2 yuan's pengpi is enough," she said.
But she said her daily income is more than what her son, who is a cook, can earn.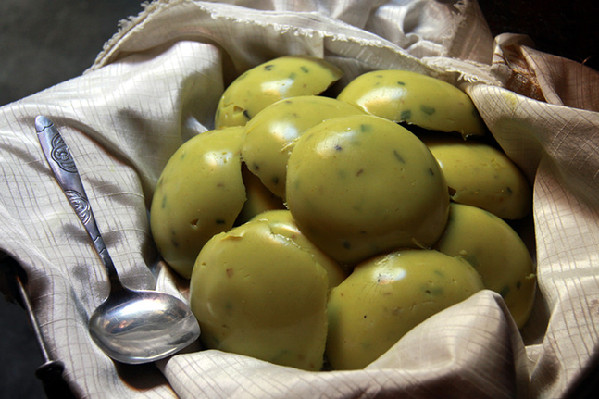 Xigaze's famous snack pengpi, Aug 26, 2011. [Photo by Song Wei/chinadaily.com.cn]
The three decade-long experience of making pengpi has turned Yanglha into a professional. She can make one day's supply in two hours, but she still keeps the habit of getting up at 5 am to start her day. "I can then go back to sleep if I want after one day's pengpi is ready," she said.
Yanglha proudly said tourists and local customers love her pengpi, and many tourists like taking photos of her, and they promise to send the photos to her after they get back home. "But I have never received any yet," she said with a grin. "It may be because I haven't got a billboard to let them know my address."
Yanglha said her biggest hope right now is to set up a billboard on which she can proudly print the name of her shop.