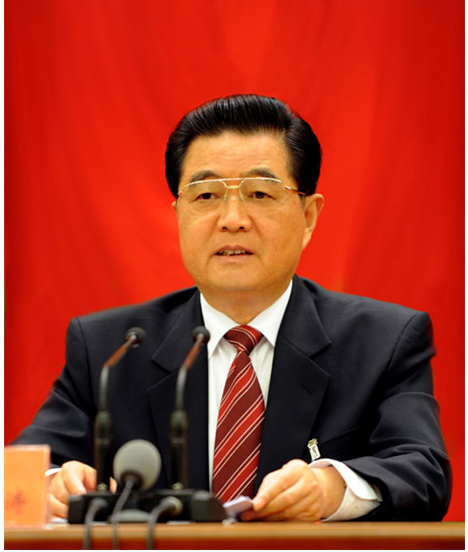 The scientific outlook on development means China has to change from over-reliance on a cheap labor force, funds and natural resources to well-educated workers and improvement of science and technology, a development mode that not only values quantity and speed but also high quality and energy-saving.
The concept was raised by Hu when visiting Guangdong Province during the SARS crisis from April 10 to 15, 2003, when he asked people to pay attention to the harmonious development of economy and society, sustainable and all-round development.
In June that year, Hu raised the scientific outlook on development at a meeting in Beijing reviewing the fight against SARS. One year later, it was included in speeches at the 4th Plenary Session of the 16th Central Committee of the CPC.
The Scientific Outlook on Development means putting people first and aiming at comprehensive, coordinated and sustainable development.
To put people first, we should take people's interests as the starting point and foothold of all of our works, make continuous efforts to meet various needs of the people and promote an overall development of the people.
To enact comprehensive development, we should quicken the pace of building socialist political and spiritual civilizations while we constantly improve the socialist market economy and maintain coordinated, healthy economic development, thus constructing a structure that features mutual improvement and common development of material, political and spiritual civilizations.
To enact coordinated development, we should promote a balanced growth between urban and rural areas, different regions, economic and social undertakings, man and nature as well as domestic progress and opening-up to the world.
To conduct sustainable development, we should foster a harmony between man and nature, tackle problems inherent in economic construction, population growth, resource utilization and environmental protection, and push society onto a path toward civilized development featuring growing production, an affluent lifestyle and a sound ecosystem.
Hu: Scientific Outlook on Development part of theories of socialism with Chinese characteristics
Hu Jintao said in his keynote report to the 17th National Congress of the Communist Party of China (CPC) on Monday that the Scientific Outlook on Development initiated by the 16th CPC Central Committee in 2003 is part of the theories of Socialism with Chinese characteristics that stands along with Deng Xiaoping Theory and the important thought of Three Represents.
"Theories of socialism with Chinese characteristics constitute a system of scientific theories including Deng Xiaoping Theory, the important thought of Three Represents, and the Scientific Outlook on Development and other major strategic thoughts," Hu said.
This system represents the Party's adherence to and development of Marxism-Leninism and Mao Zedong Thought and embodies the wisdom and hard work of several generations of Chinese Communists leading the people in carrying out tireless explorations and practices, Hu said.
"It is the latest achievement in adapting Marxism to Chinese conditions, the Party's invaluable political and intellectual asset, and the common ideological foundation for the concerted endeavor of the people of all ethnic groups. It is an open system that keeps developing," Hu said.
He noted that practices since the publication of the Communist Manifesto nearly 160 years ago have proved that only when Marxism is integrated with the conditions of a specific country, advances in step with the times and is tied to the destiny of the people can it demonstrate its strong vitality, creativity and appeal. In contemporary China, to stay true to Marxism means to adhere to the system of theories of socialism with Chinese characteristics.
Deng Xiaoping Theory and the important thought of Three Represents have been put in the Party charter in previous CPC national congresses and enshrined in the country's Constitution thereafter.