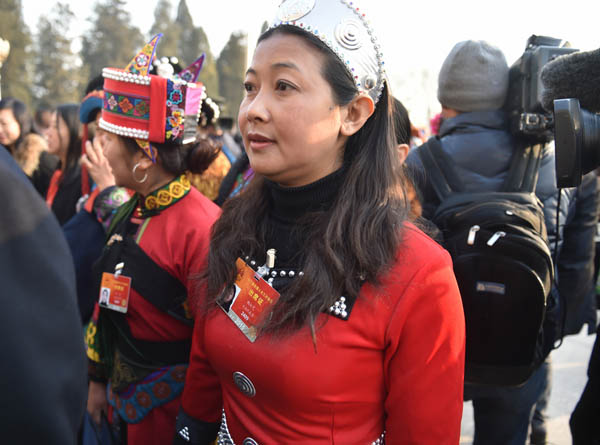 Bao Hongyi, a primary school teacher in Southwest China's Yunnan province and an NPC deputy of the Va ethnic group, at the annual two sessions in Beijing, March 5, 2017. [Photo/VCG]
The Va ethnic group living along the border with Myanmar in Yunnan province is one of the least known minority groups in the country. But their concerns and suggestions are heard thousands of kilometers away in Beijing thanks to NPC deputies' motions during the annual two sessions.
Bao Hongyi, a 43-year-old primary school teacher in Cangyuan Va autonomous county, has been an NPC deputy for five years. Every March she travels to Beijing to propose her motion on improving local education system.
This year, she proposed that primary school teachers should be provided more opportunities to attend the country's profession rank evaluation.
Climbing the evaluation ladder is very difficult in her area, particularly for primary schools. Unlike middle school teachers who can automatically achieve a higher rank based on their work experience, few opportunities exist for primary school teachers, which may affect their passion for the job, said Bao.
She said the education system in her area is in bad state. "Training and hiring of teachers in the border area where ethnic minorities live is an urgent requirement," said Bao. One of the reasons why the region lacks development is that people were still living in primitive society when the People's Republic of China was founded in 1949.
But a lot of progress has been achieved in recent years. Rural teachers in her area now can get subsistence allowance of 500 yuan ($72) to 900 yuan every month. And some teachers who were sent to Shanghai on a one-year training program have become the backbone of local education. Such programs can also be conducted online now.
To attract more teachers to the region, more budget should be allocated to solve the problem of teachers' housing, said Bao.
Another pressing problem is the large number of left-behind children. The children feel saddest during parent-teacher conference and parent-child activity held by the school.
She said teacher should play a bigger role in moral education. She shared the experiences of integrating such education into training with youth.cn. "When we were teaching the concept of percentage in math class, we asked the students to collect used bottles and taught them calculation using those bottles. This way they learned math along with the importance of environmental protection."
Bao is proud to be a primary school teacher. Whenever she interacts with her students she feels happy. One of her students moved to another city with his parents, but stayed in touch with her for years. He later enrolled at a major university in Beijing and also got a job in the capital after graduation. "Now he very proudly tells others, 'My primary school teacher is an NPC deputy'."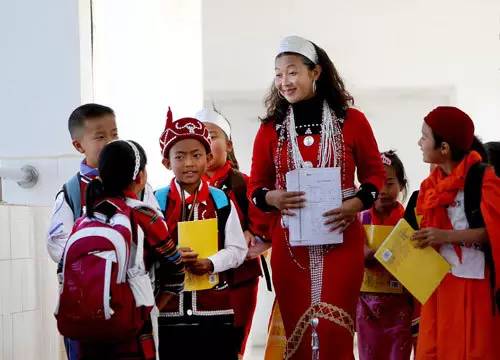 Bao Hongyi and her students. [File photo from web]