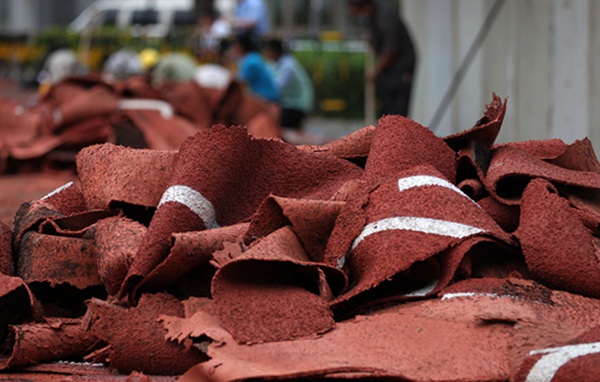 The synthetic running tracks have been uninstalled. [File photo by CHINA DAILY]
Playground standards to be updated; broad effort advised for moral training
The Ministry of Education is working with other departments to root out toxic synthetic running tracks and reduce bullying on campus to guarantee students' health and safety, Education Minister Chen Baosheng said on Sunday.
Toxic synthetic running tracks and bullying at schools-particularly at primary and middle schools-have attracted widespread public attention in recent years, as both are believed to have posed threats to students' growth.
The running tracks were alleged to have caused physical illnesses characterized by vomiting, nosebleeds and skin rashes among students in many places in China, including Beijing and Shanghai, and in Hebei and Jiangsu provinces.
After investigating the incidents, the authorities found that standards for school running tracks were inadequate and out of date, Chen said at a news conference on the sidelines of the fifth plenary session of the 12th National People's Congress.
"Some schools are even building running tracks under the standards of more than two decades ago," he said.
"There are also problems with the bidding process," he said, noting that some construction companies have won bids with low prices rather than high quality.
The ministry is working with research institutes and government bodies to draft a new set of standards.
"We'll pilot the new standards and will implement them nationwide after they prove suitable," Chen said.
Meanwhile, the ministry will continue to cooperate with the Ministry of Public Security, the Supreme People's Court and Supreme People's Procuratorate to crack down on school bullying.
Some positive effects have already been seen, Chen said. "But school bullying is not uprooted yet. More efforts are needed."
Chen said people should be informed of the difference between bullying and violence. The former is a kind of misbehavior, while the latter is a crime, he said.
Zheng Huiqiang, a member of the National Committee of the Chinese People's Political Consultative Conference and vice-chairman of the China Democratic League's Central Executive Committee, believes that clearer definitions and distinctions between behaviors are necessary.
"We should avoid exaggerating the problem of school bullying, but we cannot ignore the damage it does to children's development and to social order," he said.
Zhong Binglin, a member of the National Committee of the CPPCC who serves as president of the Chinese Society of Education, told Legal News that school bullying and violence demonstrate a shortage of moral education at school.
"School education is a reflection of social and family education. To reduce school bullying, efforts from families, schools and the whole society are required," Zhong was quoted as saying.