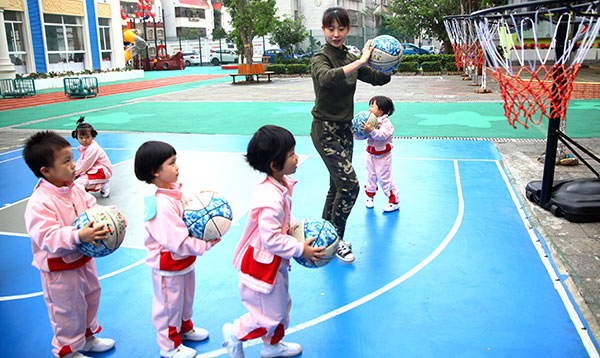 Hainan province plans to build first-class hospitals, kindergartens and schools to attract more visitors.Zhang Mao / For China Daily
Island province seeks to become a healthcare hub and invest in its education sector for future growth
Tropical Hainan province, long renowned for its beachfront resorts and tourist hot spots, is building itself into a healthcare hub with a special focus on expectant mothers, according to its governor.
"We plan to recruit 100 obstetricians and gynecologists and 100 pediatricians this year, by offering high salaries and establishing professional maternity centers," said Governor Liu Cigui, on the sidelines of the ongoing annual session of the National People's Congress, the national legislature.
He said the province also has plans to offer high-quality educational facilities by investing 50 million yuan ($7.3 million) each year in recruiting school principals and teachers from across China.
It is not the first time the governor has used the annual session of the NPC to advertise Hainan - last year he boasted about its golden sands, blue water and clean air to encourage people to buy property there.
"We are working on improving the medical and education sectors," he said. "Hainan will build first-class hospitals, kindergartens, primary schools and middle schools in every county, to cater for everyone."
As part of the province's 13th-Five-Year Plan (2016-20), five healthcare centers are set to be built in a bid to ensure that no resident is ever more than one hour's drive away from one.
"We are trying to cater to the different needs of all tourists and residents," said Liu, adding that many top hospitals have opened branches in the province.
Hainan's developing healthcare sector is already attracting both domestic and overseas tourists.
Natalia Medvedeva, a 33-year-old Russian, gave birth to her second child in the Hainan Modern Women and Infants Hospital in Haikou, the provincial capital, in December.
She arranged to have her second child at the hospital after giving birth there for the first time four years ago while on vacation in Hainan and being impressed by the services on offer. "There are 43 mothers and expectant mothers at the hospital right now, seven of whom come from other provinces," said Wei Caiyun, a member of staff at the hospital, who added that the number of women giving birth at the hospital almost doubled from 2010 to 2016.
In a bid to attract even a greater number of international and domestic patients, Hainan is investing 19.8 billion yuan in the Bo'ao Lecheng International Medical Tourism Pilot Zone, which will house a variety of health centers offering state-of-the-art treatments such as cell therapy.
"Nearly 1 million tourists visited Sanya during Spring Festival. Other places in Hainan also saw a 30 to 40 percent rise in the number of tourists," Liu said. "I hope that tourists will enjoy the island's beautiful scenery and enjoy a healthy life."
More than 60 million tourists visited Hainan last year, the third consecutive year that visitor numbers have risen.