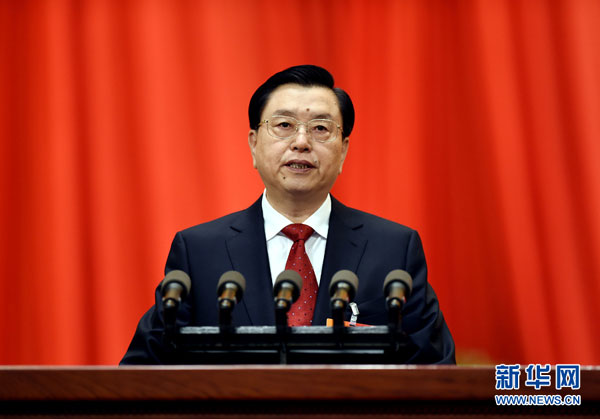 China's top legislator Zhang Dejiang delivers a work report at a a plenary meeting of the National People's Congress' annual session in Beijing March 8, 2014. [Photo/Xinhua]
BEIJING - Chinese legislature is speeding up efforts to make harsher laws to fight corruption, a senior law official said Monday.
Lawmakers are considering revising the Criminal Law to modify criteria for imposing penalties on criminals found guilty of embezzlement and bribes, said Wang Aili, director of the Criminal Law Office under the Legislative Affairs Commission of the National People's Congress (NPC) Standing Committee.
Lawmakers have proposed dismissing the benchmark monetary amounts as criteria and making sentencing in accordance with three categories that pay attention to both the amount of money and the seriousness of the crime, he said.
The current Criminal Law, enacted in 1997, stipulates that the penalty for corrupt officials should be meted out according to the amount of illegal money value involved, with benchmarks set at 5,000 yuan (about $817), 50,000 yuan, and 100,000 yuan. The criteria are outdated considering the pace at which the Chinese economy and per capita income have grown in the past 18 years.
Heavier penalties will be imposed on those offering bribes, Wang said.
The draft amendment added new provisions so that those giving bribes to staff of state organs and their relatives to pursue illegitimate interests would face criminal punishment, Wang said.
Those taking advantage of their posts to commit crimes would be banned from the work of relevant fields for a certain period, he added.
The country will also work out revisions to the Law on Administrative Supervision, Wang said.
Advancing the anti-graft legislation is in line with a decision on rule of law adopted by the Communist Party of China Central Committee in October last year.
The legislation should be introduced as quickly as possible and the system of sanctions and prevention improved with the goal being a mechanism that means "officials dare not, cannot and do not want to be corrupt," according to the decision.