Syria's foreign minister started a four-day visit to China on Wednesday, amid a fresh round of efforts by China to play a more active role in the Syrian-conflict issue.
The visit came after Foreign Ministry spokesman Hong Lei confirmed on Monday that China will invite representatives from the Syrian government and opposition groups to visit China to facilitate talks.
The Foreign Ministry has said Syrian Foreign Minister Walid al-Moualem will meet with his Chinese counterpart, Wang Yi.
Li Guofu, director of the Center for Middle East Studies at the China Institute of International Studies, said al-Moualem's visit comes at a "very good moment" after the United Nations Security Council on Friday unanimously adopted a resolution on Syria. The resolution endorses a road map for a peace process in Syria, setting UN-facilitated talks between the Syrian government and opposition members for early January.
"It is time to use China's advantage to promote the talks. We have good relations with the Syrian government. They trust us. On the other side, we have contacts with the opposition, which also believes China holds an objective stance on the Syrian issue," Li said.
However, he noted that a meeting of the Syrian government and opposition in China, if realized, will be just one such meeting on resolving the Syrian issue.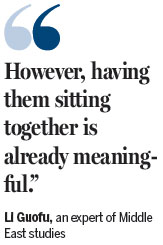 "We cannot pin high expectations on it. However, having them sitting together is already meaningful."
Li Shaoxian, an expert of Middle East studies at Ningxia University in Yinchuan, Ningxia Hui autonomous region, said China has long been making efforts to promote talks between the parties in Syria. This "will be the first time for Beijing to make its arrangement public", he said.
"It is an important step," he added. "I have the feeling that in the past month China has strengthened its efforts to facilitate the political settlement of the Syrian issue."
The Tokyo-based online magazine The Diplomat said on Tuesday: "Should China actually host rare peace talks between the Syrian government and opposition, it would be a big step forward in Beijing's direct involvement in ending the messy conflict.
"Beijing has hosted Syrian government and opposition figures separately, but this is the first time the Chinese government had explicitly offered to help act as mediator," it said.