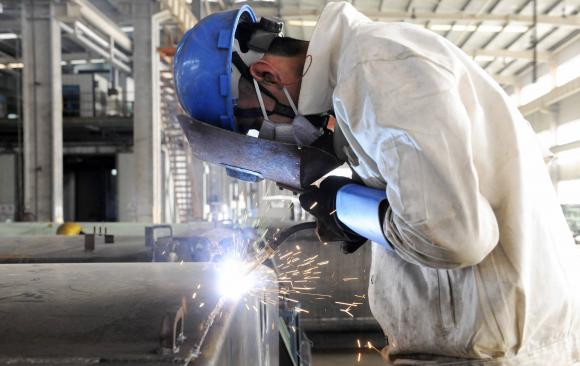 An employee welds the exterior of a vehicle along a production line at a factory in Qingdao, Shandong province Dec 1, 2014. [Photo/Agencies]
Several local officials in China's Northeast region sought to explain dramatic economic drops in their areas by admitting they had faked economic data in the past few years to show high growth when the real numbers were much lower, Xinhua News Agency reported on Friday.
"If the past data had not been inflated, the current growth figures would not show such a precipitous fall," one official was quoted as saying.
The report cited several officials in the region who acknowledged they had significantly overstated data ranging from fiscal revenue and household income to GDP.
Three years ago Liaoning province's GDP growth was reported at 9.5 percent, but its current figure-over the first three quarters of this year-is just 2.7 percent. Jilin's growth was reported at 12 percent three years ago, but its current rate is 6.3 percent in the same period.
The revelation about the inflated figures came as the GDP growth of the three Northeast provinces ranked the lowest nationwide.
Guan Yingmin, an official in Heilongjiang province, said local investment figures were inflated by at least 20 percent, which translates to nearly 100 billion yuan ($15.7 billion).
If the local financial reports were true, some single counties' GDP would have surpassed Hong Kong. An earlier audit by the National Audit Office found one county in Liaoning that reported annual fiscal revenues 127 percent higher than the actual number.
A staff member in the Jilin provincial finance department, who asked not to be identified, told China Daily that in past years, local officials competed each other to lure external investment projects. They reported the promised investment value, whether it had been achieved or not, as the investment figure.
The legacy of the command economy in the area means that there is a lack of entrepreneurship and forward thinking, said Xu Mengbo, an economics professor at Jilin University.
"In terms of management ideas, there is at least 10-year gap," he said.