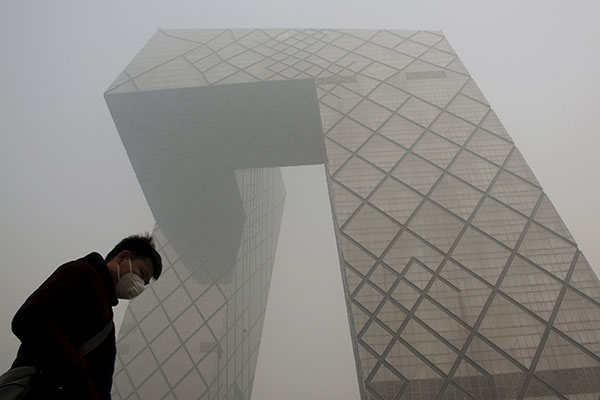 Smog shrouds the China Central Television building in Beijing on Monday, when severe air quality prompted the capital to order polluting industries to suspend production. [Photo/Agencies]
BEIJING - Smog will hit parts of northern China from Saturday to Sunday, the National Meteorological Center (NMC) forecast.
Smog will hit southern and central parts in northern China and the northern parts along the Yellow and Huaihe rivers on Saturday and Sunday.
It will shroud parts of Beijing-Tianjin-Hebei next Tuesday and Wednesday and from Dec 14 to Dec 16, though it won't be as severe as the air pollution earlier this week.
The region experienced its worst air pollution of the year early this week, with atmospheric conditions and high humidity helping trap pollutants.
Meanwhile, strong rain will slash Zhejiang, Fujian, Guangdong and Guangxi over the weekend. Snow is forecast in northeastern Xinjiang and northeastern Heilongjiang.