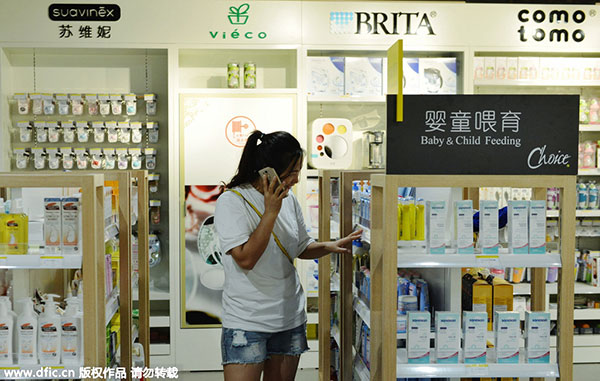 A customer shops at "Choice Xixuan", the first online-to-offline store for imported products in Hangzhou, capital of Zhejiang province, June 26, 2015. [Photo/IC]
Online shoppers in China have expanded their foothold to more than 100 countries and regions in the past decade, according to a report published Thursday by g.taobao.com, the country's largest shopping website Taobao.com's unit that focuses on overseas online shopping.
The Ten-year Report on Online Shopping Overseas reveals the trends of Chinese online shoppers since 2005.
In the early years of online shopping overseas, Chinese buyers preferred shopping websites in Hong Kong and Macao. And now they have switched their attention to a wider range of areas, including Japan, South Korea, North America, Europe as well as South Africa.
Among all the regions, Japan, the United States and South Korea are among the favorites, followed by Hong Kong, Germany, France, Taiwan, Australia, Britain and Denmark.
The year 2015 witnessed an explosive growth in online shopping overseas, with new buyers accounting for 28 percent, much higher than previous years. Chinese shoppers have purchased more than two million products from overseas via Internet.
These shoppers prefer local specialties in other countries and regions. For instance, they tend to buy cod-liver oil online from Iceland, water purifiers from Germany, cleansing tissue from Portugal.
But the hottest items are cosmetics and skin care products, which have been bought by more than half of these buyers.
The report also discovered different preferences among new and experienced shoppers. Newcomers prefer cosmetics while more experienced ones like food. Mothers are the most active buyers and baby formulas and maternal and baby products occupy nearly half of the top 10 spots of the hottest products bought overseas online.
Another characteristic of these online shoppers is that they follow popular trends. For instance, the Russia-made cellphone Yota sold well after visiting Russian President Vladimir Putin gave it as a present to his Chinese counterpart Xi Jinping during the APEC meeting in Beijing in 2014.
The report also found regional differences among shoppers. Those from Beijing prefer air purifiers primarily due to the severe pollution, while people in Shenzhen like to buy cookies.