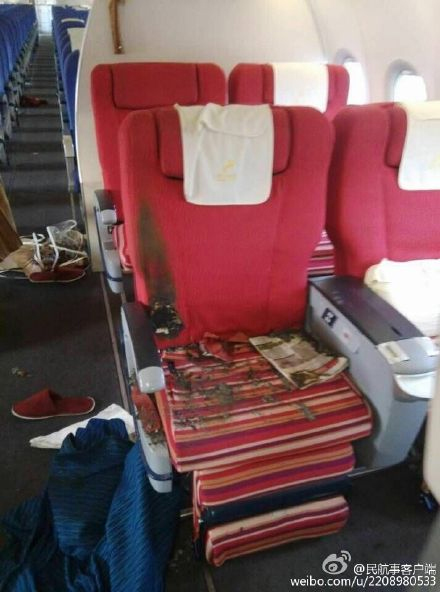 Inside the cabin of Shenzhen Airlines Flight ZH 9648 after the flight crew and passengers immediately overpowered a passenger after he was found trying to damage facilities.[Photo/Weibo]
GUANGZHOU - A passenger has been detained for creating chaos on a flight early Sunday in south China's Guangdong Province.
A passenger attempted to damage facilities on Shenzhen Airlines flight ZH 9648, which departed from Taizhou City of east China's Zhejiang Province, when it was landing in Guangzhou Baiyun International Airport at around 1 a.m. on Sunday, according to the airport.
The passenger was overpowered by flight crew and other passengers immediately, said the airport.
The airport started emergency response, evacuating 95 passengers and nine crew members after the plane successfully landed. Two people, who were injured in the incident, were sent to a nearby hospital.
Flight order at the airport has been resumed. Further investigation is under way.