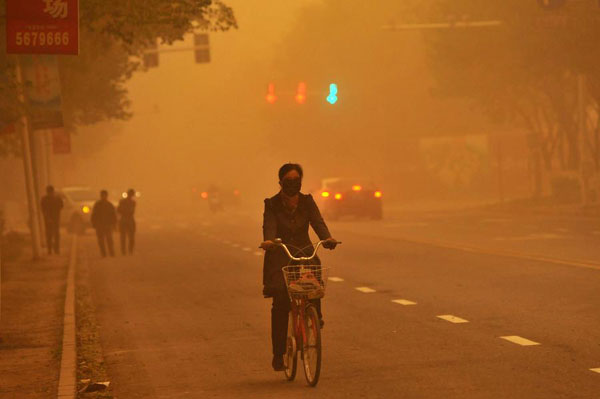 A woman rides a bicycle with a mask in sandstorms in Wujiaqu, Northwest China's Xinjiang Uygur autonomous region on Monday. [Photo/Xinhua]
URUMQI - Sandstorms swept parts of Northwest China's Xinjiang Uygur Autonomous Region on Monday, lowering visibility to zero.
Large areas of Xinjiang including Urumqi, Changji, Hotan and Kashgar saw dusty weather starting from 9 am.
The sky turned brown in Urumqi and people on the street wore masks. Some areas in Kashgar city saw strong winds and sands accumulate indoors even though the windows were closed, according to a Xinhua reporter.
"In some regions of Hotan, the visibility was zero. It caused troubles for local residents," said Dou Xinying, a staff from the Xinjiang meteorological station.
The dusty weather will gradually taper off later on Monday, according to a local forecast.