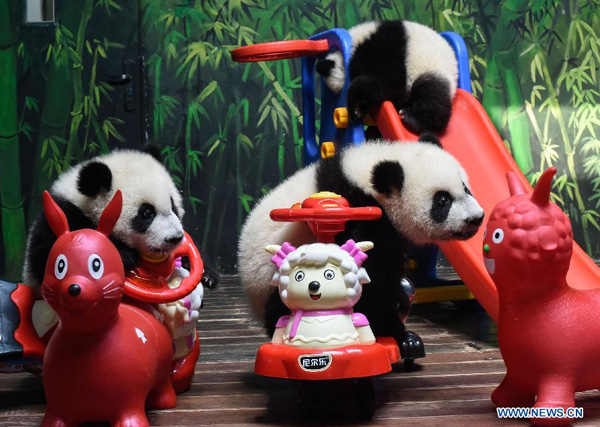 Five-month-old giant panda triplets play with toy sheep offered by their breeders at Chime Long Safari Park in Guangzhou, south China's Guangdong province, Feb 18, 2015, on the eve of Chinese lunar new year of sheep. [Photo/Xinhua]
BEIJING - A total of 1,864 giant pandas are living in the wild in China by the end of 2013, representing an increase of 268 or 16.8 percent over the previous survey period ending in 2003, official data showed on Saturday.
The habitat areas of giant pandas also expanded by 11.8 percent to 2.58 million hectares from the previous survey period, according to a nationwide survey on the highly endangered mammal conducted by the State Forestry Administration (SFA).
China's total captive giant panda population reached 375 by the end of 2013, including 166 males and 209 females. Compared with 2003, the captive population increased by 211, or 128.7 percent, with more of the breeding age, the SFA said.
Wild giant pandas are found in six mountain ranges, including Qingling, Minshan, Qionglaishan, Daxiangling, Xiaoxiangling and Liangshan, covering 49 counties in Sichuan, Shaanxi and Gansu provinces.
The survey also showed a total of 42 adult pandas and cubs were living overseas in 12 countries by June 2014 as a result of the collaborative research on giant pandas China has established with the countries.
China has conducted collaborative research with 17 zoos from Japan, the United States, Austria, Thailand, Spain, Australia, Britain, France, Singapore, Canada, Belgium and Malaysia,
A total of 2,000 people spent 60,000 working days in total to complete the survey in an area of 4.36 million hectares between 2011 and 2014, which is the country's fourth.