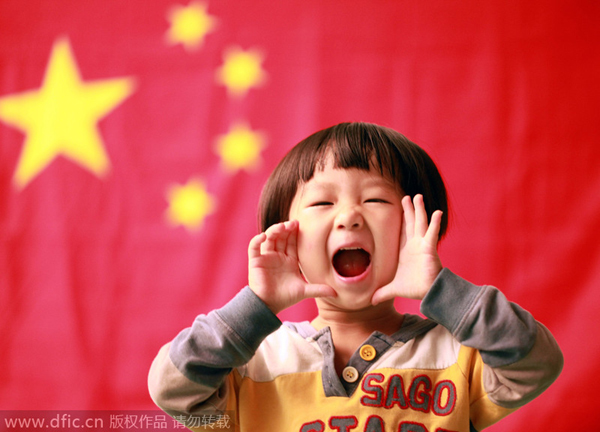 A kid joins a game in front of a national red flag in Anyang, Henan province, in this Speptembr 2012 file photo. [Photo/IC]
Potential parents must undergo 5-step screening process and training program
Foster parents who care for abandoned children with disabilities will in the future have to live in communities that offer a good level of medical care and have special education and rehabilitation facilities.
These are among the measures in a new regulation on foster family management that was released by the Ministry of Civil Affairs on Friday and will take effect on Dec 1.

"It is a further move to protect children's welfare," said Chen Rifa, a spokesman for the ministry.
Xu Jianzhong, deputy director of the ministry's Social Welfare and Donations Department, said the regulation will further guarantee the rights of abandoned children and help them to integrate into families and society.
"Compared with the current regulation, which took effect in 2004, the new one sets stricter qualification standards for foster parents," Xu said.
Applicants will have to go through a five-step assessment process before they are allowed to look after children, and they will then receive training.
The regulation says children with severe disabilities are not suitable for fostering, and they will receive professional medical treatment and rehabilitation from child welfare organizations.
In addition, it says welfare institutions will terminate the custodial rights of foster parents if they exploit a child to raise money.
Foster parents who are guilty of discrimination or abuse will face harsher punishment, including criminal penalties.
Applicants must have no history of mental illness or serious infectious diseases, and need to have a regular income and stable living conditions. They should be between 30 and 65 years old, and must at least have attended junior high school.
The regulation says each home can accommodate no more than two children.
"As well as orphans and children whose parents cannot be traced, homeless children under 18 years old - including beggars - are also categorized as abandoned children," said Xu.
According to the ministry, 30,000 abandoned children live with foster parents nationwide.
Liu Aiping, head of the Yangzhou Social Welfare Center in Jiangsu province, said luck is required to find foster parents.
"About 99 percent of the children at the center are disabled to some extent," she said. "As well as needing love and care, such children require professional medical attention."
Dong Hui, the head of child welfare at the Henan Bureau of Civil Affairs, said: "Children with disabilities urgently require physical rehabilitation.
"Child welfare organizations can provide rehabilitation guides and facilities to help these children adapt and return to society."
wangqian@chinadaily.com.cn