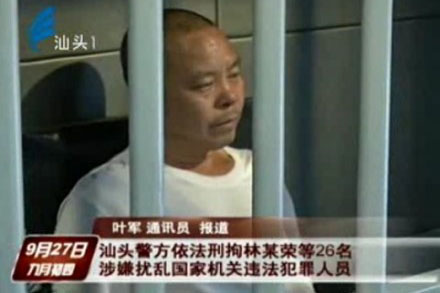 Screenshot from a local television news program shows a man behind bars on suspicion of attacking a government building and causing many injuries in Shantou City, South China's Guangdong province, Sept 27, 2014.
Police in a southern Chinese city have arrested 26 suspects for attacking a government building and causing many injuries, authorities said Sunday.
Many officials, police officers and members of the public were injured, including many in a serious condition, after an angry crowd stormed the building of the Party committee of Shantou City, Guangdong Province, said Qiu Wei, vice mayor of Shantou, at a press conference.
Qiu said the suspects stoked public anger about the expansion of a garbage dump. The suspects had previously incited villagers to block roads and clash with police, injuring over 30 officers, on July 7, in an attempt to force the authority to release several gamblers they arrested.
Police arrested the suspects and seized 200 weapons, including knives and batons, on Saturday.
Some residents, however, told Xinhua they were upset about the insufficient compensation after government requisition of their land.