A cuddly bear who spoke in an effeminate voice in the Sichuan dialect amused people in downtown Chengdu, Sichuan province, on Monday afternoon.
Panda 51, shown in a video, "spoke" through a person's voice to narrate its growth from 51 grams at birth to 59 kg now.
The 8-year-old panda "said" he was sorry that has not yet found a girlfriend.
"Panda 51 was so named because of his weight at birth. He was the lightest panda in the world, its weight only one-third that of a normal newborn cub," said Hou Rong, a researcher with the Chengdu Research Base of Giant Panda Breeding.
Thanks to the intensive care of researchers and keepers at the base, Panda 51 survived and is now a healthy adult.
In February 2012, the story of Panda 51 was turned into a film by Zhang Yun, a Chinese film and television producer living in Japan. The film was shown in more than 30 cinemas in Japan, making the panda well-known overseas.
On Monday afternoon, government officials, local artists, and consuls general from Singapore, South Korea, Thailand and Pakistan gathered in Chengdu to invite people from around the globe to make colored drawings of Panda 51.
"It is aimed at making a colored drawing of Panda 51 as the logo of the city of Chengdu, as famous as the Berlin Bear is for Berlin," said Zeng Min, deputy secretary-general of the Chengdu government.
During the ceremony, a representative of Ye Yushan, a 79-year-old sculptor, presented his sketch of Panda 51 that people worldwide will use as a base for making colored drawings of the panda.
Chen Qiming, a middle-aged, traditional Chinese realistic painter, donated his colored drawing of a panda to the organizing committee of the 2014 Chengdu Creativity and Design Week. His was the first colored drawing the committee received.
Displaying the submitted colored drawings of Panda 51 will be one of the activities of the Creativity and Design Week, which will be held Oct 1 to 14.
The event, which will be held every two years, is expected to draw 1 million people this year, including famous designers from Britain, Germany and the United States.
The event this year will consist of a creative design exhibition and painting the panda in colors, according to Fu Yonglin, deputy mayor of Chengdu and chairman of the event's organizing committee.
Chengdu, which is strong in the creative design sector, is one of the earliest historically and culturally famous cities designated by the central government.
huangzhiling@chinadaily.com.cn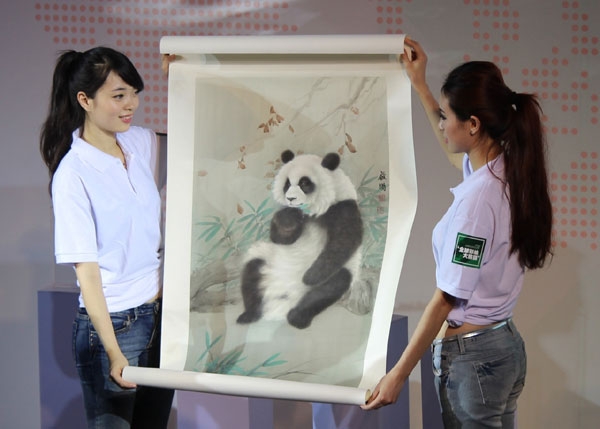 Workers show a painting of a panda donated by painter Chen Qiming on Monday in Chendu, Sichuan province, at the opening ceremony of an event to invite people from all over the world to paint drawings of pandas. Provided to China Daily