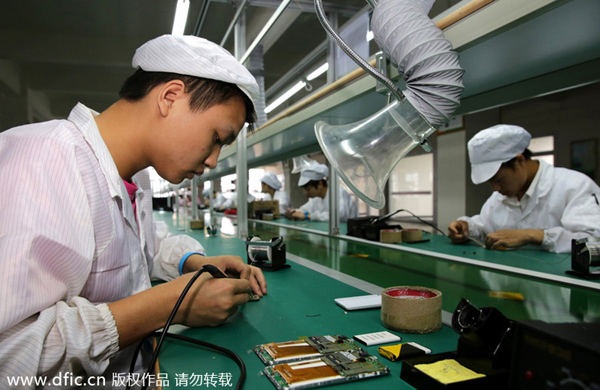 Chinese workers assemble mobile phones at a factory in Huaying city, Southwest China's Sichuan province, 20 June 2014.[Photo/IC] 

Foreign-funded companies have been urged by an official from China's top trade union body to consider using professional mediators to help handle an increasing number of disputes involving Chinese employees.
Labor disputes have emerged as a worrying trend that can affect social stability, said Guo Jun, head of the legal affairs department at the All-China Federation of Trade Unions.
Last year, courts nationwide handled about 300,000 labor dispute cases, in addition to more than 1 million such cases mediated by trade unions, Guo said.
Arbitration tribunals handled about 666,000 labor disputes, an increase of 23,000 from 2012.
"As China is becoming a market economy, it's natural for companies to reshuffle, merge or even shut down some underperforming businesses. Such decisions inevitably affect workers," Guo said.
"If employers cannot communicate these moves to their workers effectively through professional mediators, workers might resort to strikes or other extreme behavior to defend their rights."
Guo cited an ongoing dispute between retail giant Wal-Mart Stores Inc and a trade union in Changde, Hunan province, as an example.
Wal-Mart shut down more than 10 of its supermarkets in China without facing any significant obstacles until announcing the closure of its Changde outlet in March.
About 70 of 135 former employees from the outlet turned to their trade union to protest. They were disappointed with what they felt was an abrupt decision and a non-negotiable compensation package from the retailer.
They protested peacefully for days and tried to stop the company from moving equipment and other assets from a warehouse.
"Wal-Mart must have consulted its lawyers about the store closure, but rigid interpretation of China's labor laws can be inaccurate," Guo said.
"The law can only spell out the bottom line. Employers cannot expect to solve labor disputes smoothly, even if their decision seems flawless under the law. Their behavior can still be seen as arrogant and unreasonable. It's important to have a mediator to communicate with workers."
The Ministry of Human Resources and Social Security listed labor dispute mediation as a new profession in 2007. Talented professionals trained in such mediation will receive certification of their skills.
Beijing Foreign Enterprise Service Corp, a leading human resources service provider for more than 10,000 companies in China, most of which are foreign-funded, set up an industrial relations mediation committee in 2010.
The first group of 35 trained mediators, comprising human resource managers, legal advisers and members of trade unions, started work on the committee in August 2010, said Liu Zhen-xing, the committee's director.
The company has earmarked 200,000 yuan ($32,160) to support the committee's work and ensure its objectivity in solving disputes between employers and workers, he said.
Workers and employers will sign an agreement if mediation is successful. The committee will submit the agreement to a local arbitration tribunal for validation, Liu said, adding that the agreement will only take effect with the tribunal's approval.
The company said that by the end of 2013, the committee had solved about 2,000 industrial relations disputes, with employers paying around 70 million yuan as compensation for "peaceful breakups" with former employees.
"Most cases we handled concerned layoffs due to various reasons. We try to help companies and employees solve their problems before tension escalates by telling them what the law stipulates and by attempting to find a way for both sides to compromise," Liu said.
hedan@chinadaily.com.cn