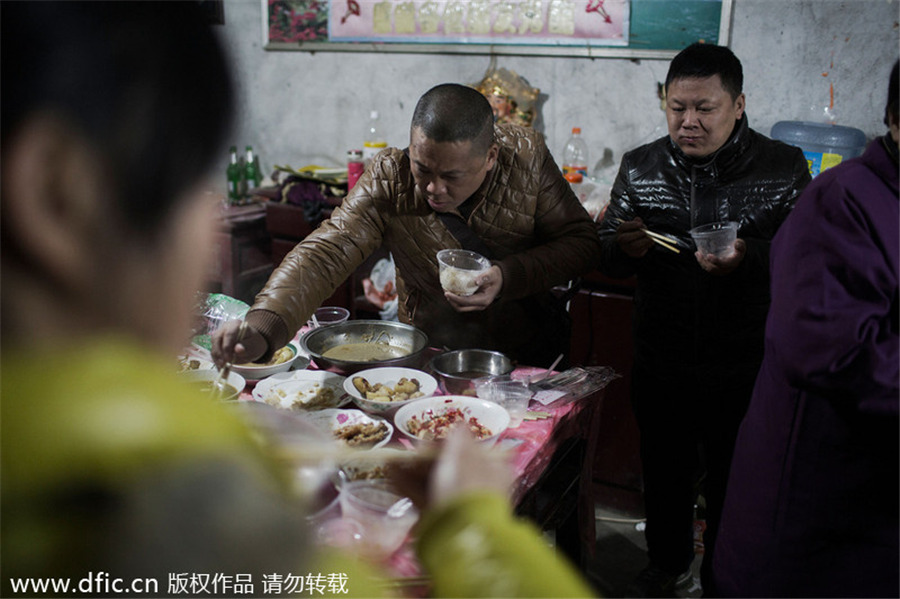 Zeng, center, has dinner with co-workers at his home before they head to Guangzhou on Feb 15.[Photo/icpress.cn]
Zeng Lunfeng, who owns a medium-sized garment factory in South China's Guangdong province, has been pretty upset these days.
After Spring Festival, he hired about 20 new workers from his native Hubei province for his factory in Kangle village, Zhuhai district of Guangzhou city, but seven of them left within a week, leaving his incomplete orders in the lurch.
"I need to hold up a cardboard sign at a popular village site again, to hire another 10 workers," Zeng said, fretting that his business in the garment industry's busy season -- the first month after Spring Festival-- will suffer because of the labor shortage.
Not only Zeng's business, but most garment manufacturers in Zhuhai district of Guangzhou city, one of China's largest garment production bases, are undergoing manpower problems, even though the pay for an average garment factory worker has surged to up to 10,000 yuan a month in the region.
Foreseeing the staffing crisis and putting faith in his fellow villagers, the 46-year-old Zeng tried hiring people from his hometown of Zhengchang, Xiantao city in Central China's Hubei province, during Spring Festival, when most villagers came home for family reunions.
"After Feb 2, the third day of Spring Festival, I started visiting fellow villagers with presents, to demonstrate my goodwill. I gave gift money to my future employees' children, at least 200 yuan each, and to the parents of my core staff, 500 to 1,000 yuan per couple. It's not only a rural festive tradition, it's also about business."
Chen Xutang, a senior technological worker at Zeng's factory, helped him find and hire potential workers. Zeng's brother, who sold off his garment factory in January, introduced some of his former employees.
On Feb 15, the sixteenth day of China's first lunar month, Zeng picked up a total of 37 workers, including around 20 new employees, on two buses and drove them to his Guangzhou factory.
"I offered expensive cigarettes, while picking them up from their homes." Zeng said, adding that making them feel respected was one way to keep them.
Since 2008, when the subprime crisis hit small-medium businesses, industrial restructuring in the Pearl River Delta gave a boost to technology businesses, making manufacturing industries lose their cutting edge. Many factory workers moved to the Yangtze River Delta area, including coastal provinces Jiangsu and Zhejiang, for higher-paying jobs.
An official from a Guangzhou human resources market service center said the city is short of 123,300 workers after Spring Festival, an increase of 10,400 from last year.