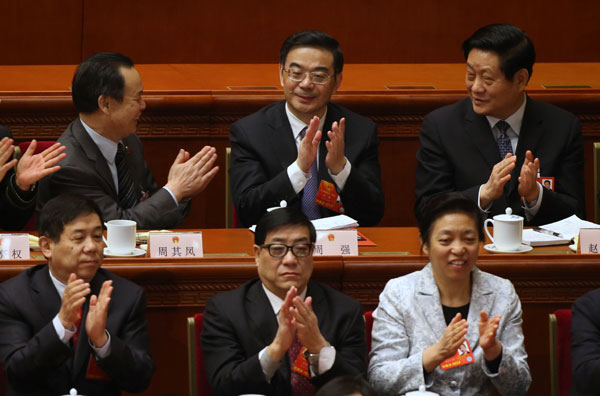 Deputies to the National People's Congress congratulate Zhou Qiang (back, center) after he was elected president of the Supreme People's Court on Friday. [Xu Jingxing / China Daily]
Leaders with a wealth of experience are ushered in by NPC deputies
The country's top two judicial organs have ushered in leaders with profound legal experience.
Zhou Qiang, Party chief of Hunan province, was elected president of the Supreme People's Court by about 3,000 deputies to the National People's Congress in Beijing on Friday.
Friday's vote also saw Cao Jianming re-elected procurator-general of the Supreme People's Procuratorate, a post he has served in for five years.
Zhou, 52, and Cao, 57, both hold master's degrees in law, and have long professional experience in the legal field. Together, they have added another two names to the new leadership who have studied law.
President Xi Jinping has an in-service postgraduate education and holds the degree of Doctor of Law. Premier Li Keqiang has also studied at the Law Department of Peking University.
Kang Weimin, president of Hunan Provincial High People's Court, said he expects the new leadership, which has an impressive background in the legal sector, to "vigorously establish a government abiding by the law".
Zhou, the youngest president of the country's top court since 1949, is better known by the outside world for his efforts to promote the rule of law in Hunan after he was appointed deputy provincial governor in 2006.
The provincial government issued a general guideline on the rule of law in 2011, a groundbreaking effort among local governments in China, which set basic principles required for a modern government, such as restricting administrative power, protecting civil rights and improving the decision-making process of Party committees.
Xu Shousheng, provincial governor of Hunan and an NPC deputy, said he expects Zhou to make use of his post in the top court to continue Hunan's pilot on the rule of law by turning the regional trial into a nationwide movement.
Deputies said they hope that courts at all levels can play a bigger role in social and economic development as a top judge with profound understanding of legal practice steps in.
Zhang Liyong, president of Henan Provincial High People's Court, said Zhou's efforts to promote the rule of law in Hunan echo Xi's emphasis on upholding the Constitution and laws, and the status of judicial organs.
Zhang also noted there are several aspects that require urgent change, such as the hukou system, or the household registration system, and the laojiao system, which can confine a person for up to four years without an open trial.
He said he has confidence in Zhou to push forward the reform in these sectors, since he is "not only equipped with legal knowledge, he also has experience in both local and central government".
Top prosecutor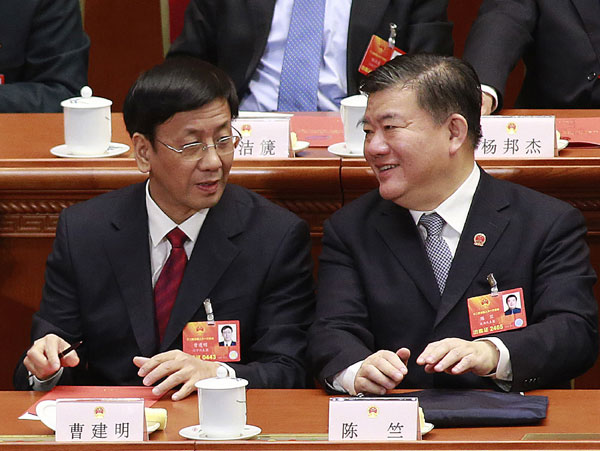 Cao Jianming (left) talks to Chen Zhu, vice-chairman of the 12th National People's Congress Standing Committee, at a plenary meeting of the annual NPC session in Beijing on Friday. Cao was re-elected procurator=general of the Supreme People's Procuratorate. [Feng Yongbin / China Daily]
Cao, who was a law professor for 13 years, stays in his post as China's top prosecutor for the next five years.
A criminal prosecutor at the top procuratorate office described Cao as "smart and ordered" with a "profound understanding of laws". He said he welcomes Cao's re-election since it can "maintain the continuation of the procuratorate's policy".
Cao has pledged to actively promote anti-graft work nationwide and uphold the principle that "every corruption case and every corrupt official must be punished" in the work report on procuratorial work that he delivered on Sunday.
"Apart from investigating major cases, we will also look into cases of dereliction of duty that directly impinge upon public rights," he said.
Prosecutors have investigated 30 officials at the ministerial level or higher for corruption over the past five years, Cao said.
Contact the writers at zhaoyinan@chinadaily.com.cn and zhuzhe@chinadaily.com.cn
An Baijie contributed to this story.