Local governments need political incentives and fiscal support if they are to turn the country's 260 million migrants into urban citizens, as China's urbanization pace gathers steam, experts said.
"The cost will be a huge burden if recipient cities are asked to pay the bill alone," said Feng Kui, a researcher at the China Center for Urban Development under the National Development and Reform Commission.
"Recipient cities and labor-export regions should share the bill, and the central government should coordinate the process."
Vice-Premier Li Keqiang stressed on several occasions recently that urbanization will create China's biggest domestic demand. He said reform of the hukou (household registration) system and the transition of migrant workers into urban citizens are the top priorities.
His calls have also raised the hope that a detailed reform plan will emerge during and after annual meetings of national legislators and political advisers in March.
Social services given to holders of urban hukou, such as social security, public housing and education, are usually better than those given to non-urban hukou holders.
But even though migrants live and work in cities, they usually have non-urban hukou and thus cannot enjoy the same benefits as urban hukou holders.
However, expanding the current social entitlements that urban residents enjoy to the huge number of migrants raises a critical question: Who is going to pay for it?
China's urbanization rate, calculated by the share of people who work and live in cities compared with the total population, rose to 52.6 percent in 2012, according to the National Bureau of Statistics. But only 35 percent of people have an urban hukou. This means that more than 17 percent of China's population, or 260 million people, are working and living in cities but do not have urban hukou.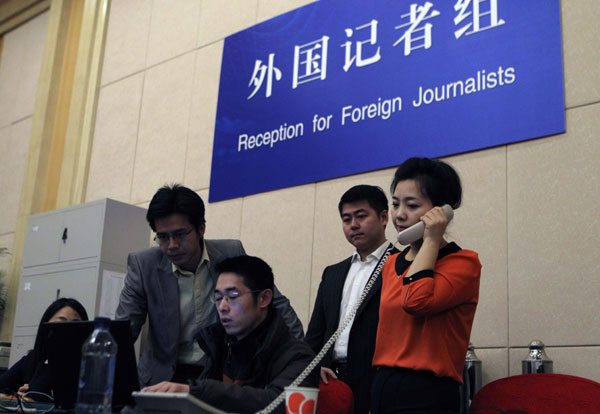 Staff members prepare to receive foreign journalists at the press center for the two sessions in the Media Center Hotel in Beijing. The upcoming annual sessions of the NPC, China's top legislature, and the CPPCC, the country's top political advisory body, opened their press center on Tuesday. Zhu Xingxin / China Daily