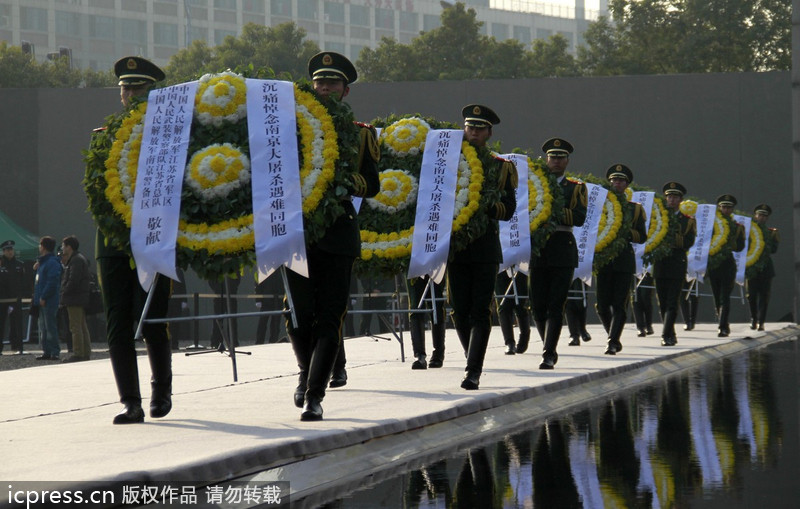 Armed police present wreaths in memory of the Nanking Massacre victims at the Memorial Hall of the Victims in Nanjing Massacre by Japanese Invaders in Nanjing, capital of East China's Jiangsu province, on Dec 13, 2013. About 5,000 people attended the peace assembly to mark the 76th anniversary of Nanjing Massacre, a six-week holocaust that killed about 300,000 people in December 1937.[Photo/icpress.cn] 
About 5,000 people at an international peace rally on Friday in the city of Nanjing, Jiangsu Province, remembered the 300,000 victims of Japanese troops, killed during WWII.
At 10 a.m., sirens wailed in the square of the the Memorial Hall for the Victims of the Nanjing Massacre by Japanese Invaders, marking the 76th anniversary of six weeks of killing, burning, looting and rape in the city.
At the rally were survivors, victims' families, students, workers, along with groups and individuals from the United States, Philippines, Republic of Korea and Japan.
"We are here to look back at history and mourn the victims to remind the world never repeats the mistakes of history. We are here to expose the conspiracy of right-wing forces in Japan who are trying to deny the invasion and overturn history, and we are here to stress a peaceful development path for the rejuvenation of the Chinese nation," He Quan, vice chairman of the Jiangsu Provincial Committee of the Chinese People's Political Consultative Conference, said at the ceremony.
Mei Shoulan, an 86-year-old survivor, touched the names of her 10 late family members inscribed on the wall of victims' names. "Seventy-six years has passed, but the memory still haunts me. I am a living witness," she said with tears in her eyes.
Residents held commemorative activities throughout the city.