Women's Day Special
Updated:2012-03-08 11:13
By Song Wei (chinadaily.com.cn)

History shows women have made great strides in the fight for equality, including the right to vote, and major inroads in equal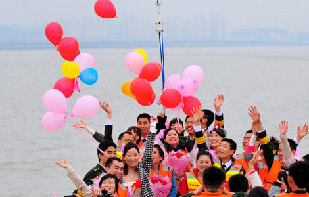 opportunities at home, in the workplace and in education. Though today gender bias continues to create barriers for some, Chinese women are playing a more important role in today's society. As the saying goes, they hold up half the sky.



International Women's Day this year gives us an opportunity to review what Chinese women have achieved so far, both in family and in workplace, and what they are striving for amid changing attitudes towards gender equality, virginity, family and work.

 
Women: 'Chastity demand is unfair'  

As the world marks International Women's Day on Thursday, China can reflect on many achievements in women's rights. Yet, the issue of virginity appears to be just as divisive as ever.

Although attitudes toward sex have steadily become more relaxed over the last few decades, sociologists say little has changed when it comes to the desire among men for "pure" brides.

According to an online survey on Sina Weibo about 84 percent of netizens, out of 2,824 who replied, were in favor of building more public toilets for women, while 9 percent were against it. ... 

 Domestic violence

A court in South China's Guangdong province has issued an order to protect a woman against domestic abuse for the first time.(Full story )

 Marriage Law favor men?

The latest explanation of the Marriage Law stipulates that houses bought by mortgage by one party prior to the marriage is deemed the registered owner, rather than a joint estate of the couple....
| | | | | |
| --- | --- | --- | --- | --- |
| 137 million women workers |   | 29 million women entrepreneurs |   | 46% of career women satisfied with job |
| The number accounts for 42.7 percent of the total labor force, according to the All-China Federation of Trade Unions. With the opening up policy and adjustments in interests, the fields women engage in are expanding, from the traditional industries of textile and light industry to more male-dominated fields. |   | Official data from the "Women at the Top" Forum sponsored by the Financial Times shows that China has over 29 million women entrepreneurs that account for 20 percent of the total in China. (China's female entrepreneurs adapt to change) |   | According to the results of a recent Career International survey, 46 percent of career women are satisfied with their jobs. The survey interviewed women working in Beijing, Shanghai and Guangzhou, analyzing and summarizing the current conditions and development trends in female office workers. |
| | | | | |
| --- | --- | --- | --- | --- |
| More than 60% of the average household income went into consumption |   | |   | |
| Chinese housewives, who traditionally hold the purse strings, spent more last year, with most of the increase going into travel and investments in stocks and real estate. |   | Wives made about 77 per cent of the household spending decisions in 2011. China has more than 400 million households and 650 million women. |   | Work pressure, faster modern lifestyles and the economic development of China are all contributing to people getting married later. |
| |   | |   | |
| The findings indicate that women are becoming the deciding party in marital decisions to divorce. |   | The survey also shows that 80 percent of single women believe only men who make more than 4,000 yuan($634) a month deserve to have a relationship with a woman, more than 10 percentage points up from 2010. |   | The term refers to women aged above 28 who hold masters or PhD degrees and earn monthly incomes higher than 8,000 yuan ($1,270). |
| |   | |   | |
| About 72.7 percent of women believe they have equal social status as men, 13.2 percent above the national average |   | The average monthly income of women pulled in a survey amounts to 4,900.7 yuan ($794). The women of Guangzhou, the capital city of south Guangdong province, came out on top, with an average monthly salary of 11,200 yuan |   | The survey also shows that urban Chinese women value family life most, as the respondents gave the most credit to a "happy relationship and harmonious family" above health, a sound living environment, a satisfactory job and a pay rise. |