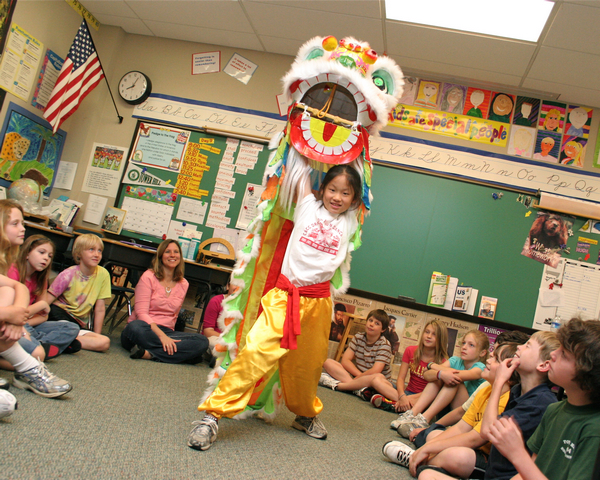 A girl of Chinese origin performs lion dance at a party hosted by Gladney Center for Adoption in New York to celebrate the Chinese New Year. [Photo/China Daily]
NEW YORK - For families that have adopted children from China, the Chinese New Year is more than a chance to enjoy good food and great company. It's also about maintaining a connection with a culture that is not entirely their own.
Organizations like Families with Children from China (FCC) and Gladney Center for Adoption are hosting annual New Year's parties, giving families with adopted Chinese children the opportunity to learn about Chinese traditions and spend time with similar families.
"Chinese New Year is about family and returning to roots," said Wendy Stanley, the director of Gladney's China adoption program in New York.
"After adoption, we all get busy with our personal lives, but Chinese New Year is when families make it a priority to come back and see the staff that helped bring their family together, and also to come together with other families like their own."
Gladney's celebration features a local dragon troupe workshop for the adopted children, performances by adopted children who take traditional dance classes, and an opportunity to make dumplings on site, Stanley said. The party is not only organized by the agency, but also by parents who stay involved in Gladney's Parent Associations, Stanley said.
Often, families who were grouped together on their original adoption trips will maintain friendships over the years. New Year's Day is an opportunity for those families to meet again, and many will request assigned seating together at the celebrations, Stanley said.
As their adopted children get older, some of these families even choose to make return trips to China together.
FCC's annual "Lunar New Year Celebration" features lion dance, Chinese fan dance instruction, crafts, and bubble wrap fireworks.
The event is popular among the young. But when the children become teenagers, it's harder to persuade them to attend, according to Theresa Levine, organizer of the event.
"(My daughter) Lucy's schedule is very full from violin, soccer and other activities outside FCC," she said. "When I try to organize an FCC event, I hear these sorts of excuses."
Related readings:


  Lanterns lit up to celebrate Spring Festival


 Get sticky for the Spring Festival


 Soldiers celebrate Spring Festival off Aden


 Chinese shop lavishly for Spring Festival
But for Levine, it's extremely important that her daughter Lucy know and enjoy both her American and Chinese heritages, she said.
Jodi Wynn, mother of 6-year-old Hayley, has made it a tradition to attend Gladney's annual party and other FCC events. Hayley's school now honors Chinese New Year as well, Wynn said.
"I always thought it was important for her to know where she came from, and celebrate all the Chinese holidays," she said.
"We do different activities with other families with adopted Chinese kids. We make lanterns, and we've read books about different things. Her tutor has explained the red envelop tradition. Every year it's something new, every year she remembers a little more and she loves it."
Hayley has a few adopted Chinese friends she spends time with, Wynn said. She also studies with a Mandarin tutor.
Families who live in cities like New York and San Francisco are fortunate to have more cultural resources available, Stanley said. Gladney also has a center in Texas, and the difference in the opportunities offered in the two cities is vast, she said.
"Here in New York City we're a subway ride away from Chinatown or Flushing," she said. "The children who are adopted here take language classes, or traditional dance classes - but in Texas it's much more difficult to make Chinese traditions a part of daily life."
And then there are some who have it easy, like Peggy Kump, the mother of a 6-year-old girl named Annie. The two live in Flushing, Queens, where Peggy teaches at a local elementary school. Her students mostly hail from newly immigrated stock.
Annie's current school, meanwhile, is about 40 percent Asian, Peggy said. Her babysitter is also Chinese.
"It's been a real blessing," Peggy said. "Annie has a really good sense of herself. She doesn't think of Chinese New Year as anything special, because it's something everyone does. We get to experience the full cultural spectrum."
Peggy and Annie attended FCC's annual party, and have also celebrated at the Asia Society and China Institute in Manhattan.
Not many families with adopted Chinese kids have the opportunity to live in a Chinese community. Peggy recalled her daughter playing with several other Asian kids recently, and thinking to herself, "You don't know how good you have it."
"She has her whole life to be in the minority, and not by choice. I think it's important that she spend time with other kids like herself. She calls her adopted friends her 'Chinese brothers and sisters'."
"I've made an effort to get (my daughter) Lucy to FCC events with girls her age and she's made friends," Levine said. "My guess is that she will be very happy to have her Chinese friends as she reaches her tweens and teens."
Stanley believes it's important for adopted Chinese kids to spend time together because it's a chance to celebrate being different as a group.
"There're so many ways that we find commonality among our peers, even in the face of differences. Being adopted is a difference, and there's a real camaraderie among the children and the parents."
China Daily