BEIJING - As instances of farmland being illegally confiscated soar, China is tightening regulations on home demolitions to prevent forced relocations, the country's land watchdog said.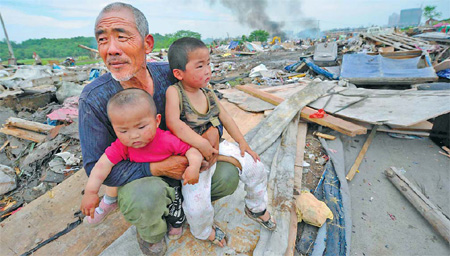 A man from Henan province and his two grandsons sit on debris after their shelter in a slum in Yiwu, Zhejiang province, was demolished last week. Provided to China Daily
In the first quarter of this year, more than 9,800 cases of illegal land use were detected, involving more than 1,700 hectares of farmland, 2.5 percent more than the same period last year, according to the latest statistics from the Ministry of Land and Resources.
According to a notice released on the ministry's website on Sunday, the ministry is now requiring local authorities to strengthen supervision of demolitions and to immediately launch special action against illegal demolitions.
Demolition must be stopped immediately when there has been insufficient compensation for farmers or when the living conditions of the farmers cannot be guaranteed, the notice said.
In addition, land bureaus are required to set up a mechanism to tackle land disputes during seizures, and an emergency response system will be built to analyze the reasons for the land disputes to avoid mass incidents that affect countryside calm, the notice said.
Related readings:


 Police ordered not to meddle in house demolition


 Court pledges to 'carefully' handle demolition cases


 Man sentenced to death over illegal demolition


 New demolition rules

Heads of the local land departments should be held accountable to carry out the central governments' policies.
Illegal confiscation has become a large threat to the land rights of Chinese farmers, and conflicts related to land can even influence the stability of the country's rural society.
According to a survey of 1,564 villages by the Chinese Academy of Social Sciences, 180 of the villages had cases of illegal land confiscation in 2010, a dramatic increase from 20 cases in 2000.
In January, the State Council approved in principle a draft regulation on home demolitions that forbids local governments from using administrative powers to forcibly demolish residents' properties, and requires disputed cases to be determined by courts.
Although such measures have taken effect, land confiscation cases are still climbing, Liu Shouying, a researcher of rural economy at the Development Research Center under the State Council, told China Daily.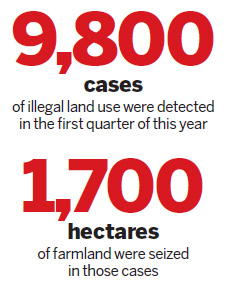 "The land disputes in rural China are devastating, because the land supply cannot meet the soaring demand for economic development," Liu said.
The revenues of local governments depend heavily on land transfer fees, which causes local authorities to use powers to demolish residents' properties, he added.
Forcible demolitions are common with illegal land use, which has long been a widespread issue across the country.
The latest forcible demolition to hit the headlines happened on Friday morning in Guanyun county, Jiangsu province when homeowner Lu Zengluo ignited gasoline inside his room - burning himself to death and injuring his wife - when workers came to demolish his two-floor building,
In April, more than 70 hectares of farmland were reported destroyed by the local government to make way for construction of an artificial lake and villas in Yiliang county, Yunnan province.