SHANGHAI - Come Sunday, dog owners in this city will have to abide by a new regulation on dog management.
"The regulation is not only aimed at encouraging dog owners to conduct themselves well while raising pets but also elaborates on their legal obligations," Ding Wei, the leader of the panel that drew up the new rule, said during an online discussion held by the Shanghai Municipal People's Congress on Monday.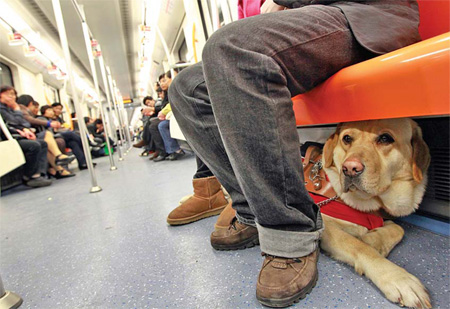 The 2-year-old guide dog Yile sits under a chair in a subway train in Shanghai on March 27. For the 26-year-old Xie Danling, a blind woman in the city, the Labrador retriever has become an indispensable member of her family. [Photo/Xinhua]
The new regulation establishes the punishments that will be imposed on pet owners who break the rules.
It also mandates that dogs be leashed at all times when they are in public places and that the length of the leash they get attached to be no longer than 2 meters. Anyone who fails to leash a dog correctly or to clean up its excrement will receive a fine of up to 200 yuan ($31).
"I'm quite satisfied with the new law, which reminds dog owners to be responsible for their dog and to avoid damaging public places or affecting others' lives," said Tang Jinyao, a 28-year-old man who owns a Pomeranian in Shanghai.
The new regulation also stipulates that owners who abuse or abandon dogs will receive a fine of 500 yuan to 2,000 yuan and will not be allowed to apply for another pet license for five years.
"I completely agree with the plan to impose punishments for abuse and abandonment," said Huo Xiaohua, a female resident who has owned a toy poodle for three years.
"But I think it will be very hard to prove whether a dog has been abused or abandoned by an owner or not."
The regulation also places fines of 5,000 yuan to 50,000 yuan on the owners of dogs that endanger public safety or disturb the lives of others.
"Compared with many other regulations concerning pet ownership, this one imposes much tougher fines on dog owners," said Ding.
For residents without pets, the regulation may bring a sense of increased safety.
"The regulation will obviously help us elderly folks who are scared by dogs, especially those big ones running in the parks or on the streets," said Dong Qi, a 67-year-old female resident.
Xu Lixia, a 24-year-old female resident, has three dogs in Shanghai, two of which are kept in her father's factory in Baoshan district, a suburban area of the city.
"I didn't raise two of my dogs in the city," Xu said. "They are a Border Collie and a German Sieger - a medium-sized and a big dog - and would definitely scare people away with their loud and constant barking."
Huo said he doubts a dog's barking can greatly disturb the peace of mind of others.
"It's very difficult to determine to what extent a dog has endangered public safety or disturbed other residents," Huo said. "Every dog has a different temper, just like human beings, and we cannot force them to break their barking habits."
Local police have said there are now about 140,000 licensed pet dogs in Shanghai, a group dwarfed by the 600,000 dogs that are believed to be unlicensed.
"There are certain people living in the suburbs who don't have their dogs licensed," Xu said. "Most of the dogs they have were brought to them from the countryside or were given to them by others. So they think it's not worthwhile to spend much money on them."
To encourage more dog owners to have their pets registered, the cost of that process will be cut down to about 200 yuan - far less than the current cost, which can be up to 2,000 yuan.
Still, owners will continue paying 40 yuan to have their dogs vaccinated and another 60 yuan to have placed under a dog's skin a computer chip that can identify the pet as being licensed.
"The lower licensing fee will definitely encourage more dog owners to register their pets and to get them vaccinated regularly," said Chen Yuefa, the sole police officer in charge of enforcing regulations on pet owning in the Changning district.
Chen said he has learned through his work that there are about 4,000 registered dogs in the Changning district, along with at least 40,000 unlicensed ones being raised by local families.
In February, when it was announced the new regulation would take effect since May 15, government offices had ceased accepting applications for new dog licenses. They now plan to reopen to the public after Sunday.
To make getting a license more convenient, the number of such offices in existence will increase from 18 to 350 and there will be at least three places in each district where the public can go to have dogs vaccinated.
All dogs except guide dogs will meanwhile be banned from entering cinemas, hospitals, Metro stations, buses, restaurants and other public places. Owners who violate that rule will receive fines.
Suggestions abound on how to make cities better places for dogs to inhabit.
"It's better to have a separate dog walking area in neighborhoods or in parks to ensure that dogs have places to play in cities," said Zhang Guangren, the veterinarian at a local pet hospital in Putuo district.
Zhang called on the local government to issue policies meant to hold the dog-breeding industry to a high standard and to encourage dog sterilization, which he believes will prevent an increase in the population of homeless or wild dogs.
Guide dogs given exceptions

Guide dogs will be allowed in all public venues displaying the appropriate sign, according to the new regulation on the management of dogs that comes into force in Shanghai on Sunday.
The regulation bans all other dogs from entering public venues such as cinemas, hospitals, subway stations, buses and restaurants.
At the moment, there are only 13 guide dogs with authorized licenses in Shanghai, all from a Nanjing-based guide dog training center.
According to a draft regulation on the construction of barrier-free facilities issued last month by the State Council's Legal Affairs Office, disabled people should be able to use all means of public transport and public areas accompanied by identified guide dogs.
Experts say that residents should not touch or play with guide dogs as it could distract them from their task of helping the blind.