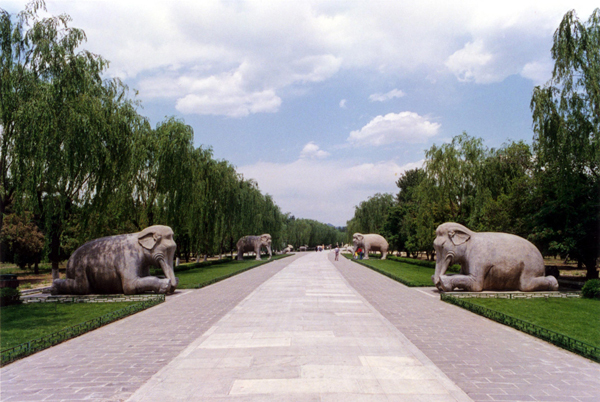 Stone statues line the 'Sacred Way', the road leading to the Ming Tombs in Changping county, Beijing, the final resting place for 13 emperors of the Ming Dynasty (1368-1644). The road was designed to allow emperors travel between heaven and Earth. [Photo by Yan Xiangqun / For China Daily]
Feng Shui master helps people locate an ideal spot for the dead and the living, Wang Zhuoqiong reports.
Zhen Yi was extremely busy between Spring Festival in February and April's Qingming or Tomb Sweeping Festival, the peak season for Chinese people to select graves and move the deceased to graveyards. The 64-year-old Beijing-based Feng Shui practitioner often accompanied his customers to cemeteries to help them choose an ideal place that balances the yin and yang, as well as the five elements of nature, to achieve harmony.
Related readings:


 Rent in peace at China's cemeteries


 Grave sites come alive for Qingming Festival


 Tomb creates grave problem


 Grave built after massive ecological destruction
Upon arrival at the cemetery, Zhen will bring out his
Luo Pan
, a Chinese compass, to find the best location for the grave.
"The Luo Pan, or compass, is very accurate in positioning," Zhen said. "We also use GPRS (General Packet Radio Service) to search a larger area."
Most of his customers are in their 40s and 50s. "They have entered a phase in their lives when they think about destiny and how their graveyards can influence future generations," Zhen said.
When it comes to grave selection, Feng Shui - a theory widely used to locate and orientate structures, often burial tombs and literally translated as "wind-water" - is increasingly popular among Chinese people, regardless of their status or background because of a long and widely-held belief that a good grave can have an influence on the living and future generations.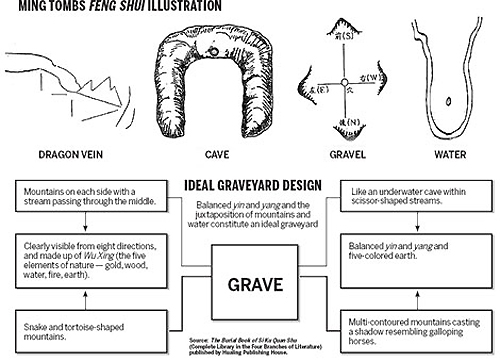 Competition is intense for locations considered blessed with good Feng Shui.
One man, a descendant of the banner men from the Qing Dynasty (1644-1911), spent more than 1.3 million yuan ($197,869) on his tomb after several weeks of careful research. The cemetery where his grave lies is close to the Ming Tombs in northern Beijing, a final resting place for Ming Dynasty (1368-1644) emperors and royalty.
"His grave is 6 square meters and each sq m costs at least 130,000 yuan. It took him another 500,000 yuan to build the grave. The mountains surrounding the Ming Tombs are dragon veins, symbols of nobility," Zhen said. "He hopes the grave will bless his children with social status."
A grave meant to bestow luck and the blessings of officialdom is located amid mountains and those that deliver riches are near waterways, Zhen said.
"Mountains mean nobility," he said. "The mountains behind should be grander than the mountains in the front. In the north, it can be hard to find a location with both water and mountains."
In big cities, like Beijing and Shanghai, some people have selected their own sites in advance largely because of the rising cost of locations with good Feng Shui.
Prices have surged in the 32 registered cemeteries in Beijing, Zhen said. The average grave price is five times higher than five years ago, and those with better Feng Shui are more than 10 times higher.
A good site is generally located on a higher position, collecting better qi, or energy flow. But different people have different tastes.
A Feng Shui master will also consider the details of the person to be buried before deciding on a specific location. And tombstones also matter.
A family, surnamed Sha, once refused to allow their ancestors to be buried next to anyone surnamed Ren, said Wang Haohua, a Feng Shui practitioner in Beijing. In Chinese, "Sha" can mean kill and "Ren" can mean people.
Feng Shui masters believe that a grave's characteristics, both good and bad, can influence a family for generations.
If a family experiences some misfortune, it is considered appropriate to check the grave's location and shape.
"A good Yin home (residence for the dead) is much more important than a good Yang home (residence for people)," Wang said.
He said one of his customers, a businessman in South China's Guangdong province, had some bad luck with his company. He concluded it was because of relocating his family's graveyard a year previously. Upon reviewing the new graveyard, the businessman found a hole in the ground in front of his family's tombstone. The hole, according to Feng Shui theory, diverts the flow of the qi.
The businessman covered the hole with a large stone in the belief that his business will improve.