Authorities say initiative has broken up gangs of traffickers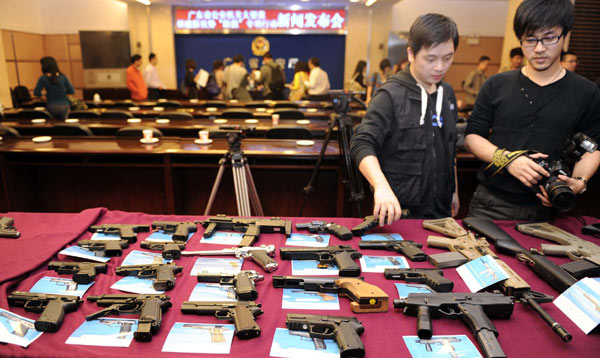 Confiscated guns are displayed at a news conference held by the Guangdong provincial public security department on Friday. PROVIDED TO CHINA DAILY
GUANGZHOU - A total of eight criminal gangs involved with guns were broken up and seven illegal gun-making sites destroyed in the first month of a special-purpose campaign carried out in South China's Guangdong province, according to authorities.
In a nation where the average citizen is largely barred from owning firearms, a total of 40 suspects were detained and 42 illegal guns and 295 imitation guns confiscated since early last month, Yang Jianghua, director of the criminal investigation bureau of the provincial public security department, said at a news conference on Friday.
On March 1, the provincial police launched the campaign against crimes involving guns, killings and car thefts. The initiative will stay in effect until the end of November.
In one case, the police of Qingyuan city smashed a drug and gun-making site, according to police.
In an earlier campaign, officers in Zhuhai city confiscated 131 non-military air guns smuggled from overseas through a logistics company. They are retrieving the guns already distributed across the country by the company.
The police also said on Friday that they solved 318 criminal cases involving killings in Guangdong in the first three months of this year, and caught one suspect who had been at large for 21 years.
More than 300 car theft cases were solved between January and March, with 57 cars recovered and a number of guns and ammunition confiscated.
"The number of cases involving Toyota cars declined by 57 percent month-on-month in March," Yang said. Many gangs had focused on Toyotas.
In one case, the police caught suspects and cars in Northwest China's Xinjiang Uygur autonomous region, busting the gang's car sales network there.
As the campaign continues, Guangdong police are offering a 2,000 yuan ($305) reward for each useful clue to the whereabouts of 10 suspects in cases involving firearms.
China has launched an eight-month campaign against gun and ammunition trafficking in border areas to ensure civil safety, according to a Ministry of Public Security statement issued on Thursday, the Xinhua News Agency said.
Some criminals are turning to overseas suppliers for ammunition after local police have stepped up the fight against gun-related criminal activities, the statement said.
China Daily
(China Daily 04/02/2011 page4)