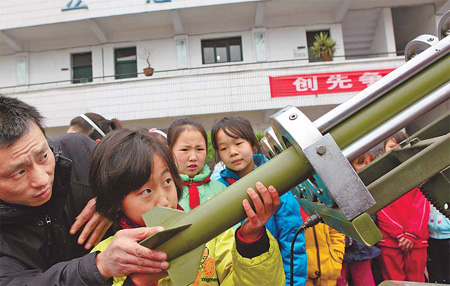 A technician helps a student load a cloud-seeding rocket into a launcher at an event to disseminate knowledge about artificial weather intervention. The event was held at a primary school in Chongqing's Yongchuan district on Tuesday. [Chen Shichuan / for China Daily]
BEIJING - China will launch the country's first regional program to artificially enhance precipitation in its northeastern area in an attempt to guarantee the wheat harvest there, says a senior official.
Related readings:


 China moves to stabilize 2011 grain production over 500m tons


 'Drought won't dry up the grain supply'


 Food security threat grows as farmers plow lonely furrow


 Drought impact on grain limited: official

"More than 1 billion yuan ($150 million) will be invested and the program will gradually be expanded to cover the Northwest, South, Southwest and East China," said Wang Guanghe, deputy director of the artificial weather intervention center under the China Meteorological Administration.
He told China Daily in an exclusive interview on Tuesday that the reason why Northeast China was picked for the pilot project was the fact that the area is a major wheat growing zone and is at risk of forest fires in the event of a long drought.
By the end of 2015, Northeast China is expected to be producing at least 100 million tons of wheat a year. And by the end of 2020, production of wheat there will have increased further and caught up with developed countries, according to a guideline on developing modern agriculture in the region that was approved by the State Council on Nov 30.
Grain output in Liaoning, Jilin and Heilongjiang provinces within the region was 89.3 million tons in 2009, accounting for 16.8 percent of the nation's total output, according to figures from the National Bureau of Statistics.
Wang said three planes with advanced cloud-monitoring equipment will be bought for 300 million yuan to enhance the weather intervention capacity in Northeast China. The aircraft will be made in China.
And an experimental zone, with advanced radars and automatic rainfall stations that will test the precipitation enhancement results, will be set up.
In addition, a national command center for weather intervention will be established, Wang added.
The enhancements will allow the nation to gather and analyze information such as the temperature and cloud conditions across the country and weather intervention planes will be directed to undertake cloud-seeding activities and induce rainfall when appropriate, he said.
Investment in research and development for weather intervention technology will be increased dramatically, Wang said.
Agriculture experts applauded the program but noted that the unpredictability of current weather intervention technology means the benefits may not be apparent in the short term.
Lu Bu, a researcher in agricultural resources and regional planning at the Chinese Academy of Agricultural Sciences, told China Daily that water shortages are now the biggest obstacle to increasing grain production in Northeast China. Lu said droughts may become more of an issue during the next five years as a result of global warming.
"It can be expected that precipitation enhancement measures will play an important role in the future of grain farming in Northeast China," he said.
But for grain production throughout the whole country, water in clouds will only be a supplementary source in the short term, Lu added, noting that other forms of irrigation will be crucial as well.
Some critics have questioned whether there will be an environmental impact as a result of manipulating the weather.
Lei Hengchi, a professor who specializes in weather intervention at the Institute of Atmospheric Physics under the Chinese Academy of Sciences, told China Daily there will be little impact because the quantities of chemicals used will be too small to make any difference.
Since October, most central and eastern parts of China have been suffering from a drought. After intense enhancement operations, precipitation in February in seven provinces and municipalities reached 2.2 billion tons. About 17 percent of that rainfall was triggered by weather intervention measures, according to the China Meteorological Administration.
Jin Zhu contributed to this story.