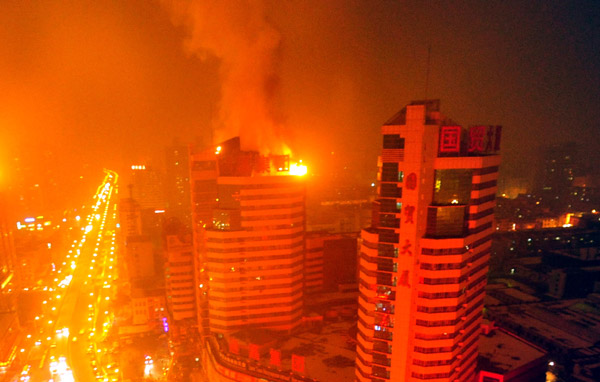 Smoke rises from fires at the International Trade Mansion in Urumqi, Xinjiang Uygur Autonomous Region, Feb 22, 2011. The high-rise building caught fire late Monday. [Photo/Xinhua]
URUMQI - The fire, which erupted late Monday in a high-rise commercial building in downtown Urumqi, capital of northwest China's Xinjiang Uygur Autonomous Region, has been put out.
The casualties remain unknown.
The flame was put out at 00:40 am Tuesday after the 22-story International Trade Mansion at Changjiang Road caught fire at around 11 pm Monday, said an official with the city's fire fighting department.
Surveillance video footage shows that the fire broke out from the elevator equipment room on the top floor. But the exact cause is still under investigation.
Fire fighters are combing the fire site to search for possible victims.