BEIJING - More Chinese tourists decided to spend their Spring Festival holidays overseas this year, despite a sharp rise in the cost of such foreign vacations.
Data released by the National Holiday Tourism Office on Wednesday showed that 67,500 people left Beijing for overseas trips during the holidays, a 60 percent rise year-on-year.
The spike came in spite of such trips costing more. Prices of vacations to Hong Kong, Europe and the Middle East rose by 15 percent on average, and excursions to Thailand's Phuket Island and Saipan Island in the western Pacific rose by 30 percent.
From Jan 28 to Tuesday, 40,243 people from the mainland traveled to Taiwan. The peak day was Feb 4 when 7,466 mainland travelers made the trip.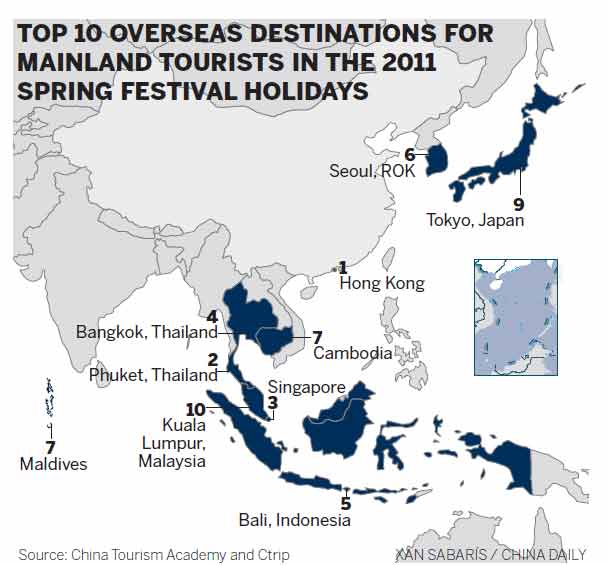 Hong Kong continues to be the most popular destination for outbound tourists, followed by Phuket, Singapore, Bangkok and Bali, according to the latest top 10 list jointly announced by the China Tourism Academy and Beijing Ctrip International Travel Service.
"For Hong Kong and Taiwan tours during the holiday, although we raised the rates by 50 percent on average, they were booked up long before Spring Festival," said He Jing, Ctrip's communications manager.
Yao Yao, marketing manager with Beijing-based China Comfort Travel, said many popular outbound tours to Australia, Hong Kong and America were sold out before the holiday.
This year, the company arranged a charter flight to Guam for the first time. A total of 150 Chinese tourists paid 9,888 yuan ($1,500) each for the five-day trip that started on Feb 5.
"Guam is not as well-known a destination as the Maldives but we believe it has great potential to attract more consumers," Yao said.
"Chinese tourists are looking for more quality and flexibility when making such overseas trips," he said. They are increasingly unsatisfied with pre-arranged travel plans and want their personal interests and preferences to be included, he added.
"We will follow the market trends and offer more customized travel to Chinese tourists in the future," Yao said.
China's tourism sector grew quickly during the past five years, with revenue increasing by 15 percent each year on average, said Shao Qiwei, director of the National Tourism Administration.
By 2015, the number of Chinese tourists traveling abroad for their holidays is expected to top 83.8 million and total revenue generated from the sector is estimated to be 2.3 trillion yuan, according to Shao.
China Daily
(China Daily 02/10/2011 page3)