BEIJING - The China Central Television (CCTV) Spring Festival Gala, one of China's most-watched television events, has opened its stage to performers from the grassroots of society.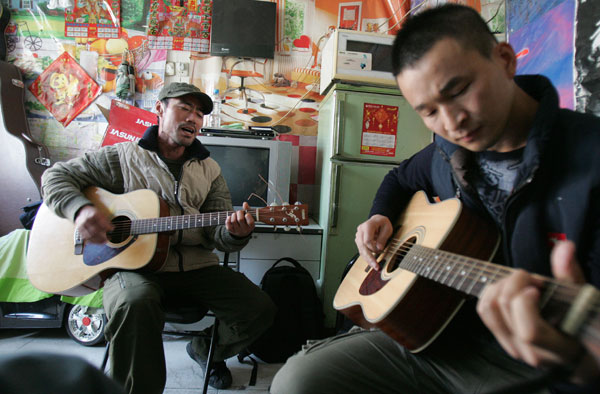 Migrant workers Wang Xu (left) from Henan province and Liu Gang from Heilongjiang province sing In the spring in a 6-square-meter rented room in the suburbs of Beijing on Oct 28.  [Photo/China Daily]
Wang Xu, 44, and Liu Gang, 29, two migrant workers in Beijing, will sing in the show, which is to air live to a global audience from 8 p.m. Wednesday (Beijing time), four hours ahead of the Lunar New Year, which falls on February 3.
Related readings:


 Migrants take the microphone

 Extraordinary people


 Busking in luck's glory


The pair earned a following of thousands after an Internet posting of their heart-rending version of the song, "In the Spring," last year.
"It would be a dream come true to attend the Spring Festival gala," wrote Liu in an online posting. "It used to be far away, but now it is real."
An institution of China's Spring Festival celebrations, the televised event usually attracts a huge viewership.
Grassroots artists will give five performances at the gala. Among them are farmer dancers from Shenzhen, a major manufacturing base in southern China, and a woman known as the "Xidan Girl," who used to busk in Beijing pedestrian underpasses. By introducing more ordinary Chinese performers, the show, normally a gathering of China's superstars, is seemingly striving to connect with grassroots groups, including migrant workers, say commentators.
Many netizens expressed support for the two farmer singers. "Tears burst from my eyes as the song ends, maybe because I am from the underclass too," said a posting on t.sina.com.cn.
Chai Jing, a well-known anchorperson with CCTV, said the performance by the two farmers portrayed how every iron-willed individual has striven to cope with the hardships of life.
Millions of farmers have migrated to China's coastal regions and major cities to work since the late 1980s. Their number stood at 230 million in 2009, according to government figures.
They usually take tiring but low-paid jobs due to their lack of education and skills, and send money back to their families in underdeveloped rural areas.
In an interview with Xinhua in November last year, Wang Xu appealed to the public to be more understanding of migrant workers.
"Please don't look down on migrant workers, who may be less educated, but are kindhearted," Wang said.
Migrant workers built the city's gleaming towers, but they might never be allowed into the buildings, Wang said. "The guards possibly won't let a farmer-looking guy enter the beautiful buildings."