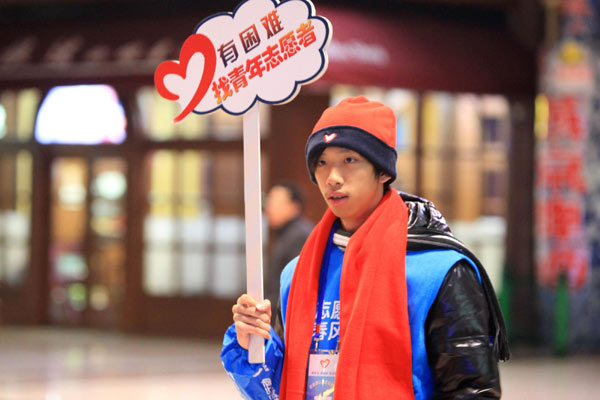 A volunteer holding a poster works at the Beijing West Train Station, Jan 27, 2011. The Chinese characters read "if you have any difficulty, please go to ask a volunteer for help." [Photo/Xinhua]
BEIJING - Wang Fenglian, 53, leaves for home with swollen feet almost every day since the Spring Festival Travel began on January 19. She works in the Beijing West Train Station.
Wang's job is to shuttle between waiting rooms and the platform getting needy passengers onboard. During the hustling and bustling Spring Festival season, she has to work for more than 10 hours each day.
Related readings:


 Going home for Spring Festival


 As throngs travel the land, the Internet lends a hand


 China's railway system is put to the test


 China vows to make people's journey home safe
"These days, we are often too busy to have lunch," Wang said, "besides, my colleagues and I often fail to catch the last bus or metro to get home because it's quite likely that we work overtime."
Some 700 million Chinese, or nearly half the country's population, are expected to travel within the 40-day peak travel season during the festival.
Falling on February 3, this year's Spring Festival may see a record 2.85 billion passenger trips taken nationwide.
Beijing West Railway Station saw more than 200,000 passengers either arriving or departing on Wednesday, Song Jianguo, the deputy Party chief of the station, told Xinhua.
For Chinese going home during the holiday season, the long journey home is not something pleasant. They have to queue overnight for buying train tickets, elbowing their way into the overcrowded train stations and roughing it for hours, or even a day or so, on the sold out trains.
Nevertheless, measures have been taken to make the rough journey a bit cozier.
Wang's job is to make sure those passengers who are not able-bodied are escorted to trains safely. Wang recalls her handling a 54-year-old passenger who had recently undergone kidney surgery and had fainted in the waiting room a few days ago.
Wang moved the woman back and forth between the medical room of the train station and the ambulance downstairs for emergency medical treatment.
Apart from train station employees, another group of people are positioned to help passengers in a hurry. In Beijing West Station, young students in blue vests with Chinese characters spelling "Beijing Volunteer" on the back soon catch people's eyes.
"Please don't stop and hurry to waiting rooms." They are directing people to the correct waiting rooms in case the entrance is clogged by passengers.
These volunteers are selected by the Ministry of Railways to offer helping hands to passengers, and they are grouped to work in different shifts: morning, afternoon and night.
Altogether, there are 12,000 volunteers across the nation, and 910 in Beijing's three major railway stations, and the 910 volunteers in Beijing began working on January 19.
Jia Siqi, a freshmen at Beijing City University (BCU), works in the "036 waiting room" specially set for the disabled, seniors, children and pregnant women.
"I am a Beijing native, so I don't have to travel all the way home, besides, I don't have other plans during my winter holiday, so I want to volunteer to help those people eager to go home for family reunions during Spring Festival," said Jia.
Jia's work is to help those seniors and women with little children to carry their luggage, and keep the waiting room in good order.
"Once I helped a mother and her little daughter to dash all the way from the waiting room to their carriage. The mother rushed with the little girl in her arms, and I rushed with their large suitcase," she said, "We made it just one minute before the train left."
Wang Ang, a sophomore of BCU, works at the north plaza of Beijing West Railway Station, helping crowds to get through the entrance of the station.
Wang said volunteers on the north plaza were all boys, because girls could not stand the cold weather working outside.
Wang got nervous when there was a flood of crowds. "People are keen to rush into the station, we have to make sure no accident occurs," he said
Volunteers on the north plaza take shifts every 30 to 40 minutes. When there are too many passengers heading into the station, volunteers stand hand in hand to keep the queue moving and to prevent stampedes.
"Although I will still work here during Spring Festival, I feel really happy to help people embark on their journey back home," said Jia.