SHENZHEN, Guangdong - One Foundation, established by Chinese movie star Jet Li, on Tuesday celebrated its official registration as a public foundation.
The move signals the start of a new era for China's charities, experts said.
"It's a cornerstone of China's charity development," said Deng Guosheng, associate professor of NGOs at the public policy and management school under Tsinghua University.
"For the first time, we have seen the successful transition of a private charity attached with a public organization into a formal public foundation."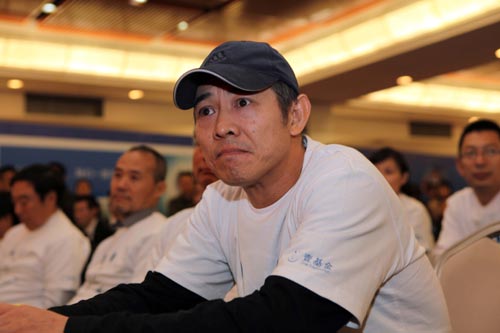 Jet Li attends activities celebrating One Foundation's official registration as a public foundation in Shenzhen, Guangdong province, on Tuesday. [Provided to China Daily]
Since its establishment in 2007, One Foundation has been running as a private charitable project under the Red Cross Society of China, and encountered legal problems when it tried to fundraise as an independent organization.
Although there are no specific laws or regulations banning civil organizations from being established as public foundations in China, in practice the majority of public foundations have connections with government organs.
But under an agreement between the Ministry of Civil Affairs and the Shenzhen government, the city is a pilot site for civil affairs reform, including foundation registration. It was in Shenzhen on Dec 5 that One Foundation managed to register as a public foundation.
"The government has sent a clear signal that creates more opportunities for civil organizations and individuals to take part in philanthropy," said Wang Zhenyao, chief of Beijing Normal University's One Foundation Community Research Institute and former director of the Ministry of Civil Affairs' social welfare and charities department.
The civil affairs department of Shenzhen also showed its enthusiasm for One Foundation's decision.
"We would like to open our doors wide to foundations or organizations as long as they fulfill the qualifications of registering," said Ma Hong, an official of the city's civil affairs department.
The successful transition of One Foundation may stir activity in China's philanthropy, Deng at Tsinghua University said, adding they may copy the example of first setting up a foundation and then developing it enough to become a formal registered operation.
However, while most people applauded One Foundation, another grassroots public foundation in East China's Zhejiang province is faced with closure.
Due to scandals connected with charity fraud, local authorities will soon ban the Ningbo Anti-cancer Health Foundation, which was established in 2006, the Hangzhou-based Youth Times reported on Monday.
The report said the foundation had gradually lost its creditability since it raised 1.5 million yuan ($227,000) in 2007 but gave 45 percent of its donations to an advertising company involved in its fundraising campaign.
Charitable organizations should take more responsibility when they get the right to raise funds from the public, said Jin Jinping, director of the Center for Nonprofit Organizations Law at Peking University.
Compared with private foundations that follow the desires of the founders, public foundations are required to run more openly and show transparency in their use of funds, Jin said.
"To guarantee the future of One Foundation, I've asked its most excellent leadership for help to protect every yuan donated," Li said on Tuesday in Shenzhen.
The foundation published the names of a five-member board of supervisors, including one Shenzhen government official.