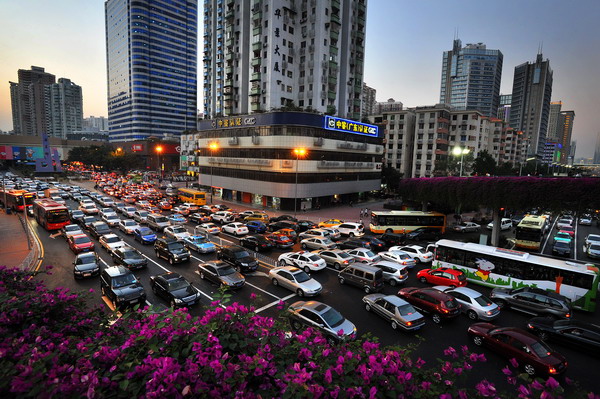 Traffic slows to a halt in Guangzhou, capital of Guangdong province, on Dec 22, 2010. [Photo/provided to China Daily]
GUANGZHOU - The government of Guangdong's provincial capital may raise parking fees this year and study possible congestion fees and restrictions of vehicles from outside the city during rush hours.
Related readings:


Car-sharing will ease Shanghai's traffic problems 


Study: China traffic deaths higher than police say 


Beijing car plate applications hit 215,425 in Jan 


Car dealers say Beijing auto rules hurt 
A draft of the 30 new measures to curb downtown traffic in the post-Asian Games period was released over the weekend. The city had ruled out restricting the issuance of new license plates, a policy Beijing had adopted.
Guangzhou has 2.15 million automobiles, including 1.61 million cars. The number of private cars had increased by 22.1 percent annually over the last five years, a rate exceeding Beijing's and Shanghai's, figures from Guangzhou commission of transport showed. About 300,000 new vehicles were licensed last year.
The average traffic speeds on the city's 60 main roads in September 2010 remained slower than 20 kilometers an hour during the evening rush hour. Authorities expected 60 percent of the main roads to be choked by 2013 if no measures are taken.
The drafted measures are intended to ensure average traffic speeds of at least 25 km an hour on major downtown roads in five years.
Authorities plan to increase parking fees, creating different standards for different locations and times.
They intend to develop systems enabling the public to share real-time information about 50 percent of downtown parking lots and make 30 percent of the lots open to reservations by 2013. This will reduce the number of vehicles driving around in search of parking.
More parking lots will be built around suburban subway stations to encourage drivers to take the subway into the city center.
Guangdong government adviser Wang Zechu questioned the parking fee plan, saying government-owned parking lots should be free or inexpensive, while the market should decide fees at private lots.
The measure seems to target private vehicles, as many government vehicles are not charged for parking anyway, said Meng Hao, a member of the standing committee of the Guangdong committee of the Chinese People's Political Consultative Conference, local News Express reported.
Wang believed congestion fee collection is time and energy consuming, and restricting government vehicles would be the most effective means of improving traffic.
The government will look at the experiences of Singapore and London to make scientific assessments before adopting congestion fees.
The authorities will also study temporary vehicle restrictions for certain downtown streets and times.
Guangzhou's government will also study restrictions on some major roads during peak hours based on whether the final digit of a vehicle's license plate is even or odd, Xian Weixiong, director of commission of transport said last month.
It also plans to reduce the number of freight vehicles downtown and relocate freight transport and wholesale markets away from the city center.
It will prioritize public transportation development by completing nine subway lines within five years. Guangzhou will add 16 bus terminals by 2015 and allocate 214 km for new bus lanes by 2013.
Public transport should account for at least 65 percent of motorized travel in the city by 2013 and 70 percent by 2015. The current percentage is 59.6.
Authorities will optimize road facilities, improve pedestrian passages and give more space for bicycle transport's development.
The government will optimize city planning by creating suburban centers and strictly controlling downtown development.
Zheng Erqi contributed to this story.