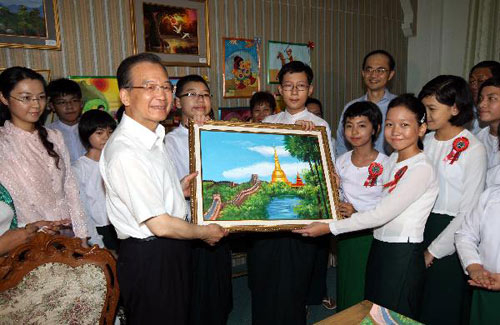 Chinese Premier Wen Jiabao (L front) receives a painting depicting China-Myanmar friendship from local students when he visits the No.1 Middle School of Yangon, Myanmar, June 2, 2010. [Xinhua]
BEIJING - Chinese Premier Wen Jiabao concluded his official visit to Mongolia on Wednesday and arrived in Yangon for a two-day visit to Myanmar.
Following are highlights of Chinese Premier Wen Jiabao's activities on Wednesday.
Special Coverage:
 Wen's Four-Nation Tour
Related readings:


 Chinese premier starts two-day visit to Myanmar


 Chinese firms 'can do more' in Myanmar


 Ambassador: Wen's visit to Myanmar new page in bilateral ties


 Myanmar to issue new stamp to mark Sino-Myanmar relations anniversary
Premier Wen and Mongolian President Tsakhia Elbegdorj vowed to boost ties between the two countries.
Wen said China and Mongolia share a long borderline, which has become a bond of common interests and friendly cooperation.
The Chinese premier said China takes a strategic and long-term perspective when developing relations with Mongolia, adding Mongolia is a priority in China's diplomacy toward its neighbors.